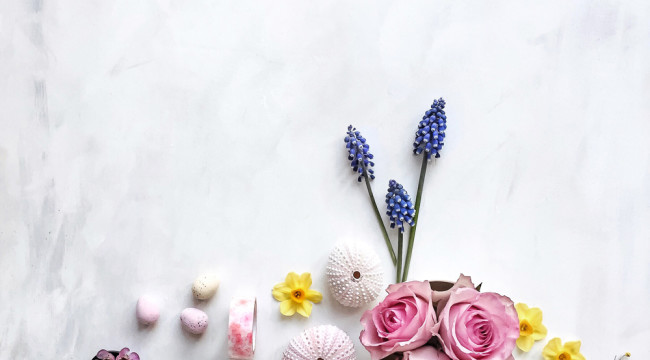 A day of creative connection
A few weeks ago Natasha and Rosie called in, and we spent a few hours together drinking tea, chatting, and making flat lays.  We first met last year, at the Oxford Instameet they organised, and then at another one a few months later. We got on quite well, and kept in touch via email and Instagram.
I'm an introvert and being on my own for most of the day suits me just fine, but I also love connecting with other fellow creatives, so when Natasha mentioned that it would be nice for the three of us to catch up over a cup of tea and some cake, I happily said yes, and couldn't wait to see them again.
The best thing about spending time with fellow creatives is that they "get you". They know about the drive to create, to keep doing what you do because it's your calling, and you just can't help it. They understand that taking hundreds of photos of the same subject, until you finally get it right, is a perfectly acceptable way to spend a whole day, and certainly not an obsession – just practicing, and learning the craft ;)
You can talk for hours about what others may perceive as quirks, and be met with a sympathetic nod rather than a blank, or sometimes pitiful, stare.
Connecting with other creatives is good for the soul, and encourages growth for all the people involved. We are part of the same tribe, we often encounter the same challenges, and it feels great to bounce ideas off each other, and share possible solutions.
Rosie, Natasha and I had a really good chat about what it means to run a creative business, how we structure (or not structure in my case!) our days and weeks, how we overcome our challenges, and how we try to keep a balance between online presence and "real" world (tip: regularly take time off internet, email & social media).
We discussed how important it is to search for inspiration not just online, looking at other people's work, but also offline. Visiting new places, being in nature, reading, going to exhibitions, learning new skills, are all excellent sources of creative inspiration, and help us find new ways to express ourselves. Nothing is truly original – we do stand on the shoulders of giants – except for our own unique voice, and it's important to nourish it and expand it through our life experiences.
After all this talking, we also found the time to create some still life images. We all used one of my backdrops, and took it in turns to create one or two flat lays using props from a stash that we'd all contributed to.
Natasha had brought some lovely vintage props, including her delightful pink camera, silk thread spools that were family heirlooms, and some beautiful, delicate sea urchin shells. She also brought some pink scrabble letters, and even though they weren't the right colour for the flat lay I chose to create, they inspired me (and Rosie) to add letters to our still life. I rummaged in the cabinet that hosts all those miscellaneous odds and ends that don't really belong anywhere (we all have one at home, I'm sure) and found some tiny B&W magnetic scrabble letters that, though a tad too small, could go with the other props.
This is Natasha's flat lay – I love the flow, the colours, and the simplicity of her visual storytelling: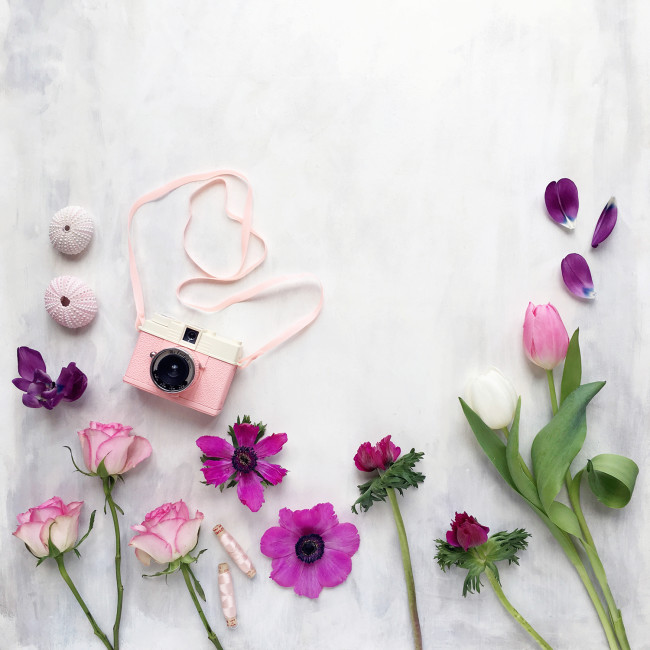 Image by Natasha

Rosie brought some lovely buttons, party decorations, plates and napkins made with pretty Liberty prints, and other fun objects that she sells in her shop. This is her flat lay – her composition is flawless, the colour palette gorgeous, and the owl jug makes me smile every time I see it: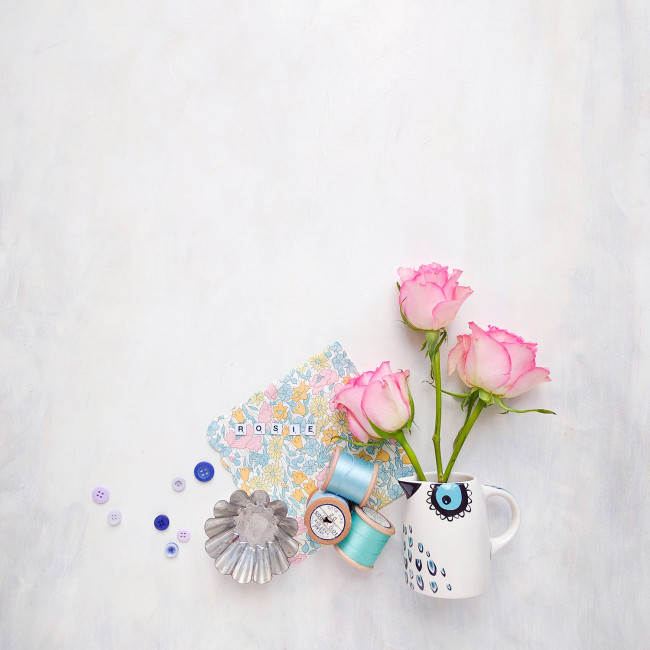 Image by Rosie

I created two flat lays, with flowers and some favourite props. In this one I couldn't resist the beauty of the sea urchin shells – I have managed to stop myself from buying one or two for myself so far, but I don't know how long I'm going to resist the temptation ;)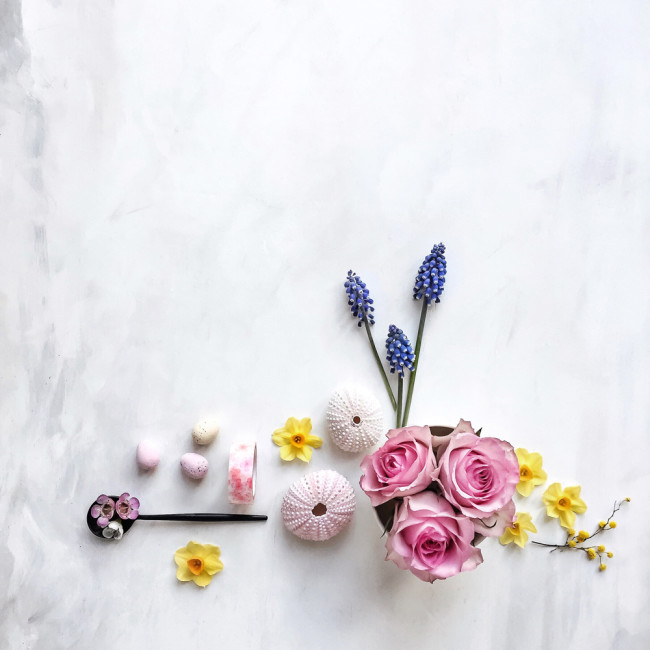 In this other flat lay I used scrabble letters to spell the word "Create", and a heart-shaped lavender lemon cake, to encourage everyone to create from the heart – the symbols might be a tad obvious, perhaps, but I can assure you that the encouragement is genuine.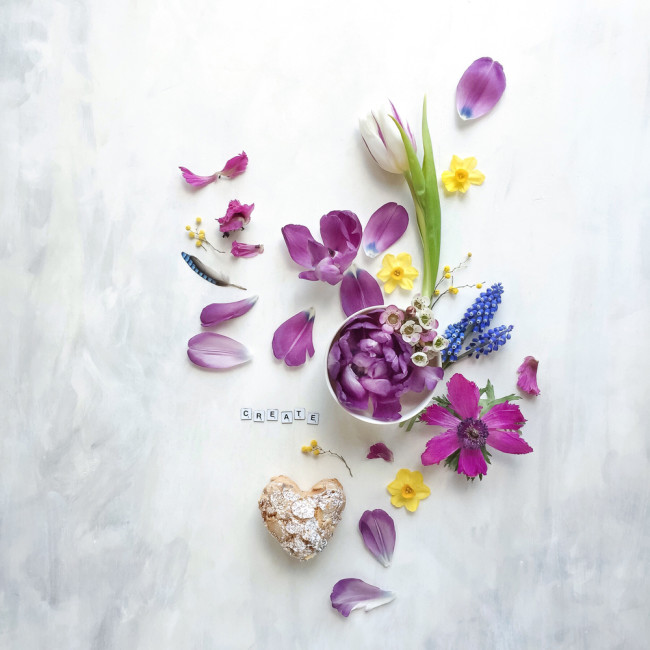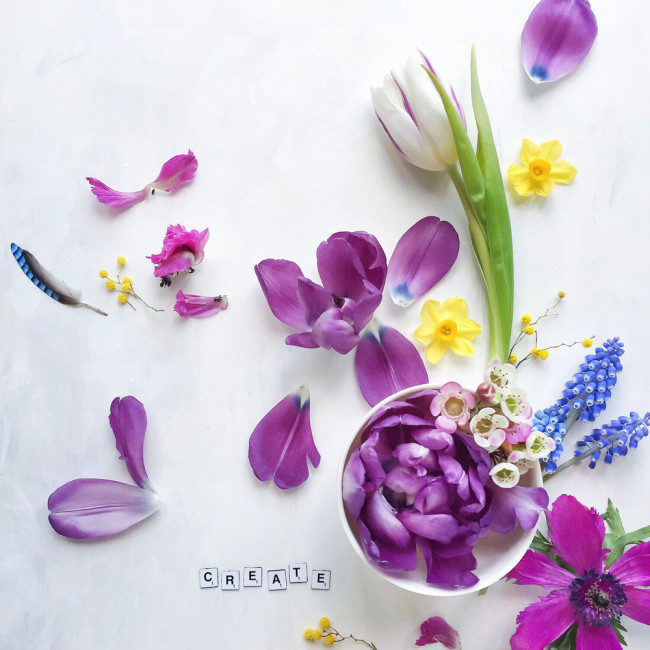 There's always a great hype about collaborating with brands, but very little is said about collaborating with other creative people, not for the money, but just for the sake of connecting, inspiring each other, growing, and having fun.
I had a fabulous time with Rosie and Natasha, and I definitely look forward to more days of creative connection.