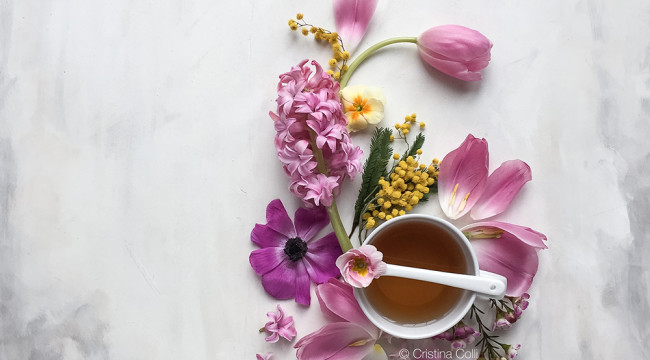 February just flashed by, despite having an extra day…looking back at my planner, I actually managed to work on quite a few projects, have interesting discussions with lovely people, and fine tune a couple of ideas – not too bad for such a short month!
The icing on the cake was finding a florist in a village close by who sells a nice variety of flowers by the stem. I love buying flowers by the stem, rather than in bunches, because it gives me more flexibility in the choice of colours, textures, and shapes for my floral flat lays. So last Saturday I spent at least half an hour choosing my palette for the week, and came back home with a huge grin and a spring in my step – what can I say, I'm easy to please ;)
With the winter being so unusually mild, February showed many signs of the coming spring, from the pretty blossoms that I haven't managed to get hold of yet, to the many cheerful spring bulbs starting to bloom in the sunniest spots of gardens and flower beds.
I found some gorgeous double tulips, and fell in love with their unruly grace: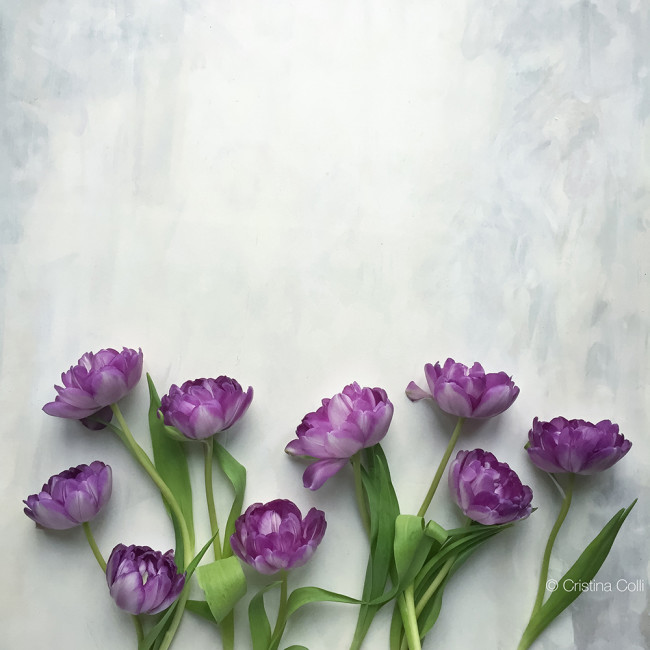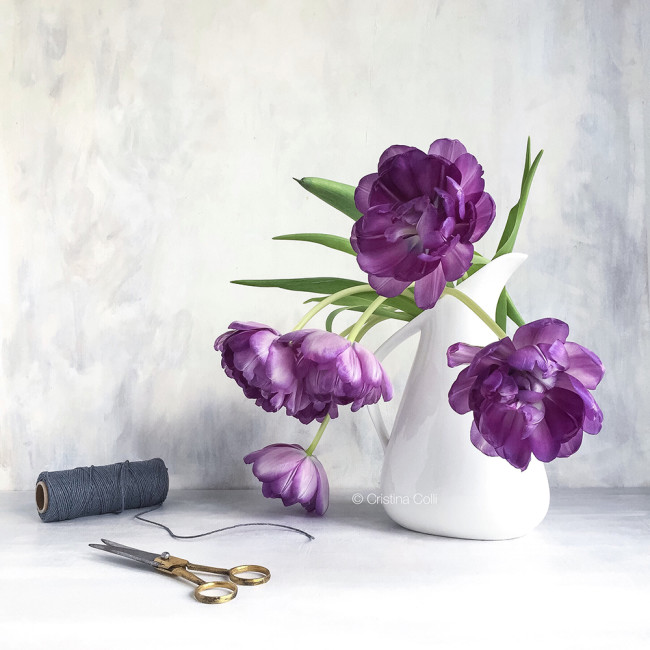 I even managed to find some mimosa! It's the first time in 4 years, and the scent reminds me so much of spring in Italy.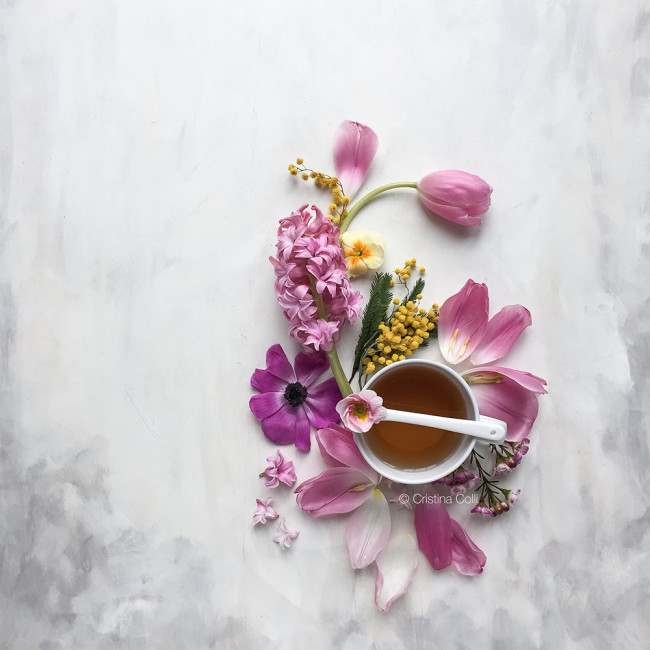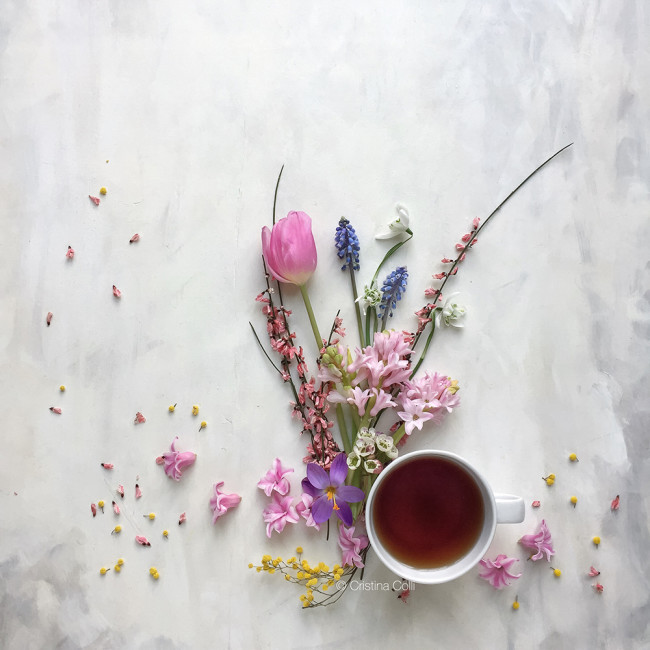 The image below sums up all the flowers that I played with in February, including a snowdrop and primrose from my garden – such sweet pretty seasonal colours!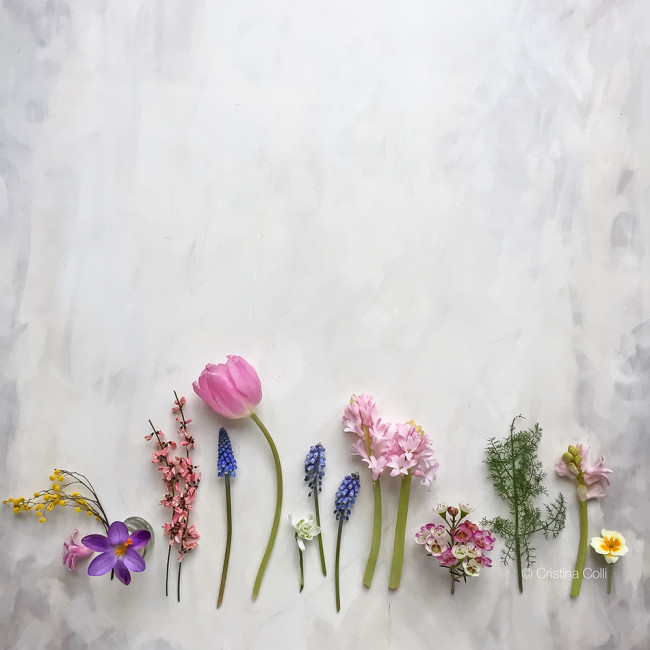 Speaking of seasons, I just scrolled through the #CCseasonal gallery on Instagram, and it was such a pleasure! So many beautiful images, thank you all for joining in and sharing your photos inspired by February.
My favourite four photos all capture the first signs of spring so well: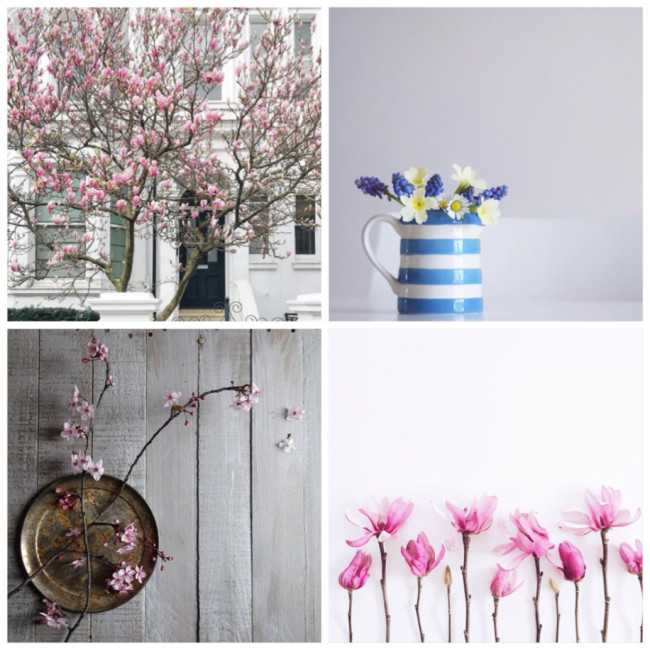 TL – @lingyeungb
TR – @thatcornishbird
BL – @lunaa80
BR – @koko_secretrainbowpath
The amazing beauty of a magnolia tree in full bloom against a pretty London house…the simple joy of some grape hyacints and primroses in a jug…the first cherry blossoms of the seasons….and some more magnolia blooms in a row, just because you cannot have too many magnolia flowers…or too much pink ;)
If you'd like to take part this month, simply use #CCseasonal to tag your still life images inspired by March, and I'll share four favourites on 1st April. Here's a link to the  #CCseasonal gallery, so many gorgeous photos! Have a lovely March :)

***
Once or, occasionally, twice a month I send out a Creative Note to my readers, with my thoughts on the creative process, inspiring links, and course news.
Signing up also gives you access to my Inspiration Library, with free resources like my ebook "The heart of Instagram: finding your peeps and building community", the creativity workbook "Creative Intentions", desktop wallpapers, and more. Interested? Sign up here
If you're on Instagram and would like to follow me there, my account is @c_colli