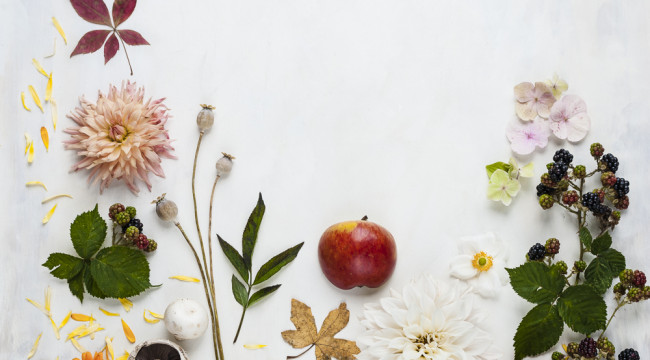 The seasons are a huge source of inspiration for me. I look at the way nature changes during the months, how the countryside goes from barren to lush, in a never-ending cycle of change and renewal…this observing, this noticing, is part of my idea of slow living, of taking the time to really see and appreciate what's around me, with a sense of gratitude for the beauty of the natural world. And as a way to celebrate the seasons and their beauty, I thought I'd start a new monthly series of blog posts, with a still life image that represent what the current month means to me.
So, about September…
September is one of my favourite times of the year. The weather is often good enough to spend lots of time outdoor, and even though the days are getting shorter there's still enough light to go for a walk with my husband after he finishes work. We often walk in the woods, a short drive from home, where it's so easy to notice how the leaves are starting to turn: a bit of gold here, a touch of red there…we see many squirrels, scouting for nuts and checking if they're ready to gather…but not yet, not yet…
September is the month of blackberry picking, and jam making, something that reminds me of my grandmother…I used to go blackberry picking with her when I was a child, and then help her wash the berries to make jam…even though as many blackberries ended up in my tummy as in the jam pot! Apples are in season too, and what better pairing that apple & blackberry pie…
Speaking of food, September is the time of making soup again, for although the days might be sunny and warm, the evenings and nights are cooler…and nothing beats the comfort of a warm soup, perhaps made with some of the mushrooms that are starting to appear too.
In terms of flowers, September is all about Japanese anemones, hydrangeas, dahlias, marigolds…beautiful virginia creeper, slowly turning red and magnificent…and dried poppy seed-heads, still lovely despite the lack of petals.
So here's the still life I created inspired by September: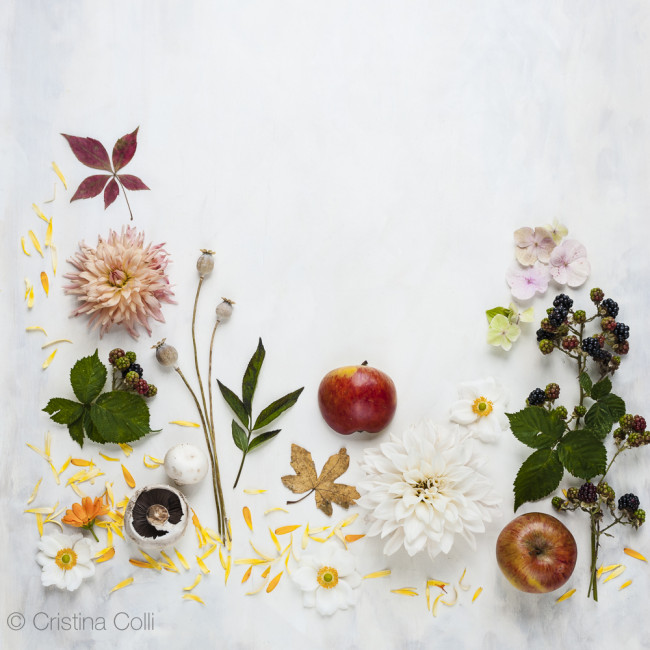 I'll be uploading my monthly seasonal photograph on Instagram too, using the new hashtag #CCseasonal
If you like this idea and fancy giving it a go, you are welcome to create a still life image that represent what the month means for you, upload it on Instagram with the tag #CCseasonal, and blog about it if you do have a blog. So what does September mean for you? I'd love to know :)
***
Subscribe to my newsletter here
If you'd like to follow me on Instagram, my account is @c_colli