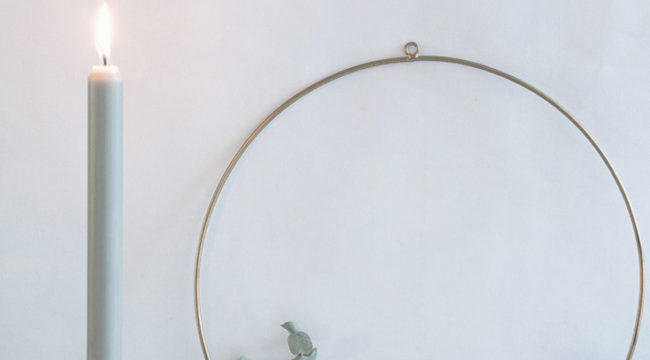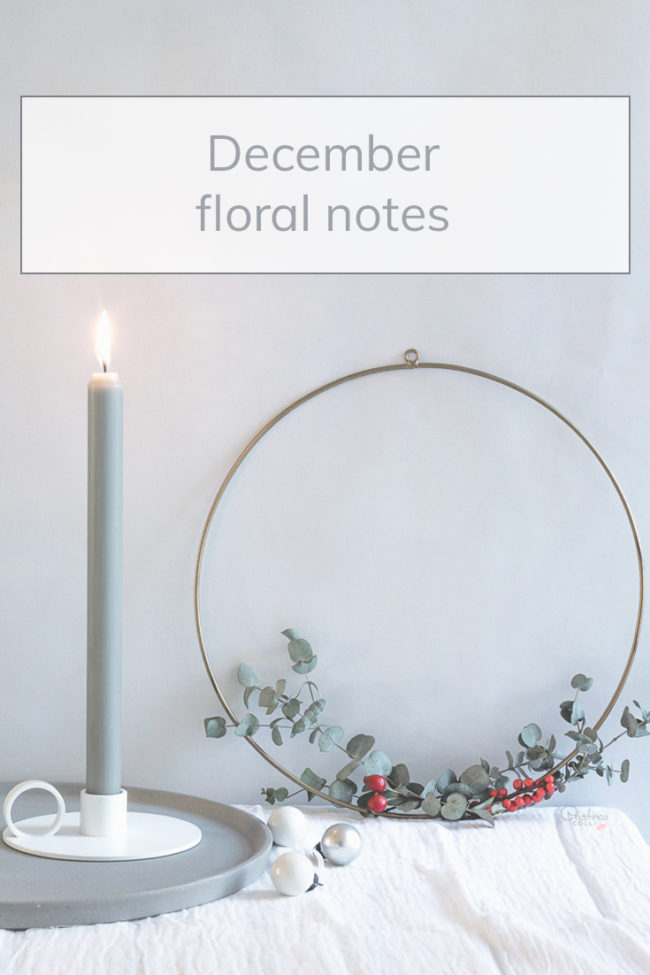 December is a palette of white, muted greys, blues, greens, and purples, with a few touches of colour: pink to remind me of pale dawns and hazy beech woods, and red for holly berries.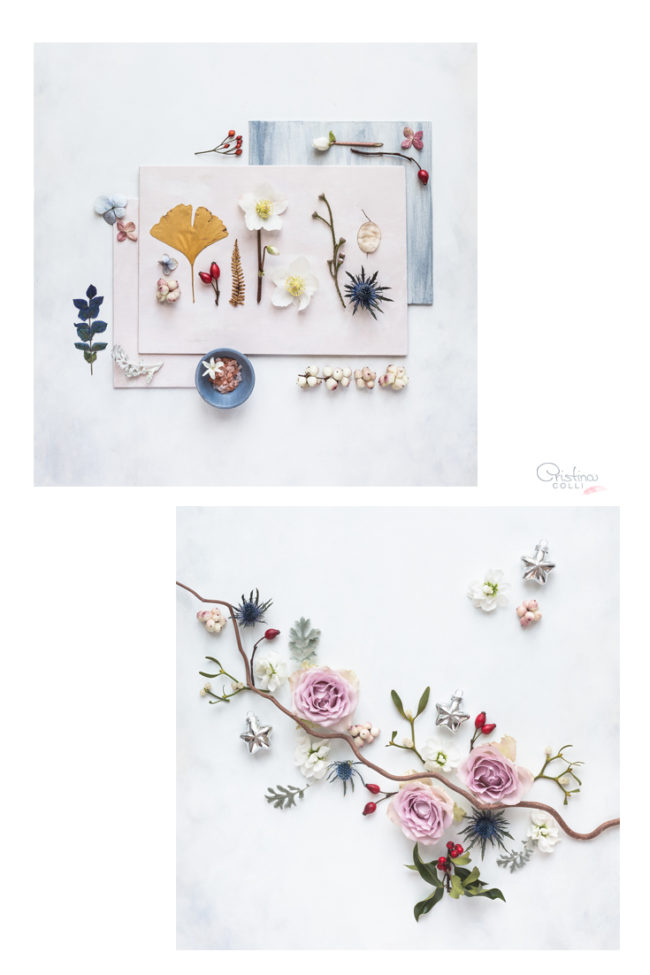 The days are short and mostly grey. Occasionally the sun makes an appearance, hanging low in the sky, casting long shadows.
There's no snow, but at times milky skies and mist, like a veil, shroud the world and turn it into a dreamy, evanescent fairy land. The beauty of Winter, understated, mysterious, and full of possibility.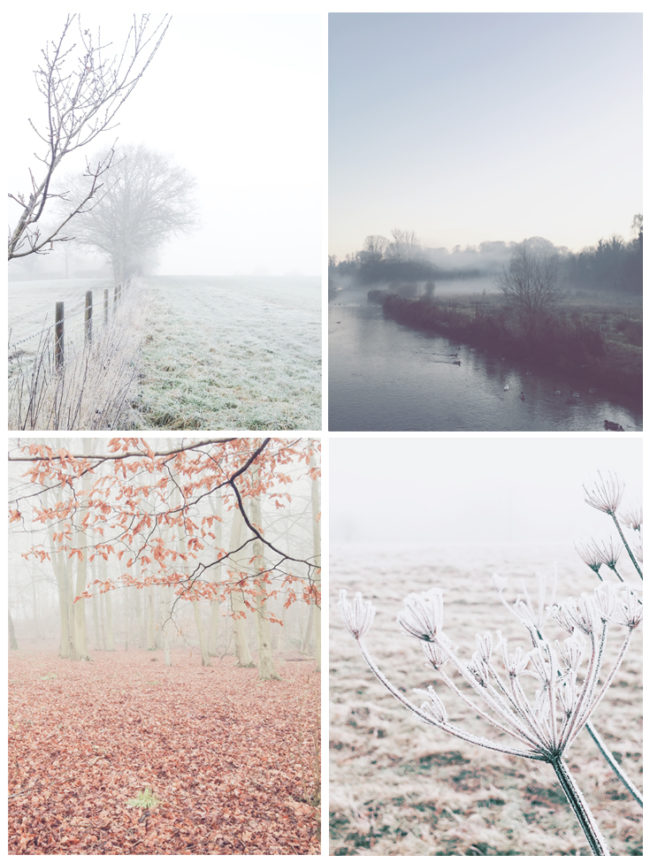 I feel the desire to hibernate, sit by the fire with a book, wrap myself in a blanket, rest, and turn inwards.
I miss not having a fireplace, so I place candles all around the house, and on our dining table. The warm, soft glow of candle light makes every meal feel special, even a simple bowl of soup.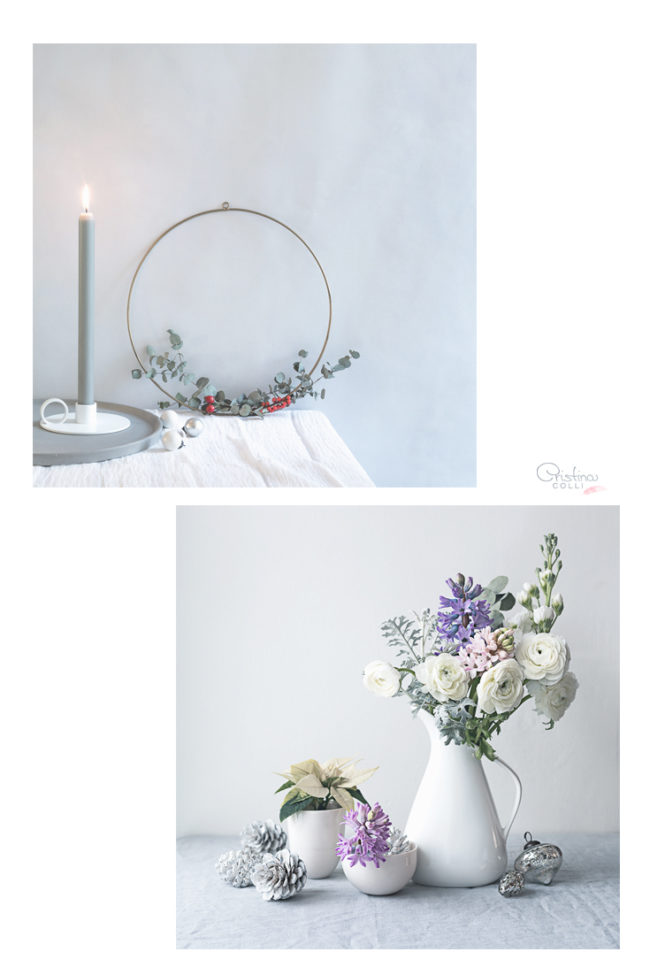 I spend the first three weeks of the month working mostly on my new e-course and mini masterclasses, editing videos and recording voice overs.
I don't have much time to play with flowers and create floral images, but I manage to decorate the house for the holidays.
I hang rose hips and little stars to a branch wall hanging, twine fairy lights around a pine branch, choose a spot by the sofa for the tree, and buy a few potted hyacinths.
The house feels festive but calm, just how I like it. On the winter solstice I burn a candle and some incense to celebrate light, and the days slowly getting longer.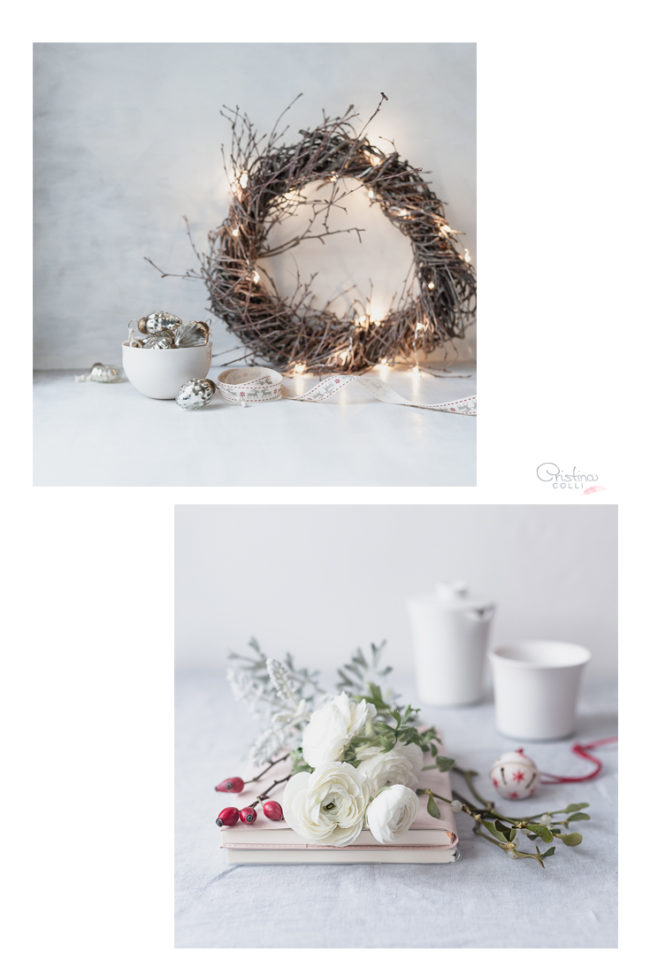 After years of staying safely behind the camera, except for a few rare appearances of my hands, I finally dare to include my face in an image, and create an enchanted, dreamy self-portrait. It feels slightly odd to be in front of the camera, but I'm happy with the result – just what I had in mind.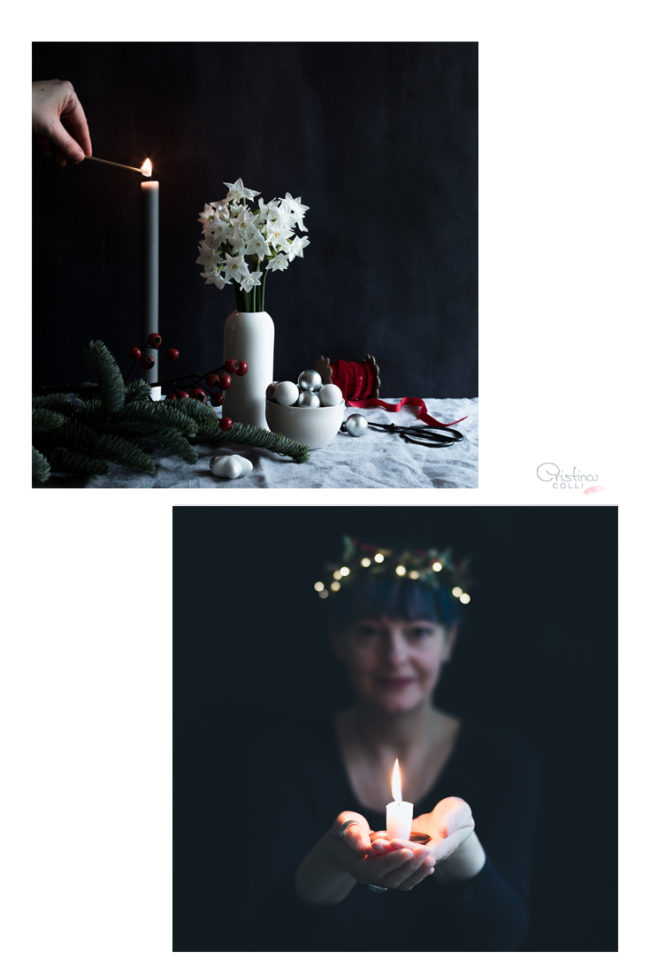 My resolution to eat in moderation fails the moment I taste my first mince pie. I decide to indulge for a few days, 'tis that time of the year after all. I make vegan ricciarelli, vegan panettone, and other delicacies.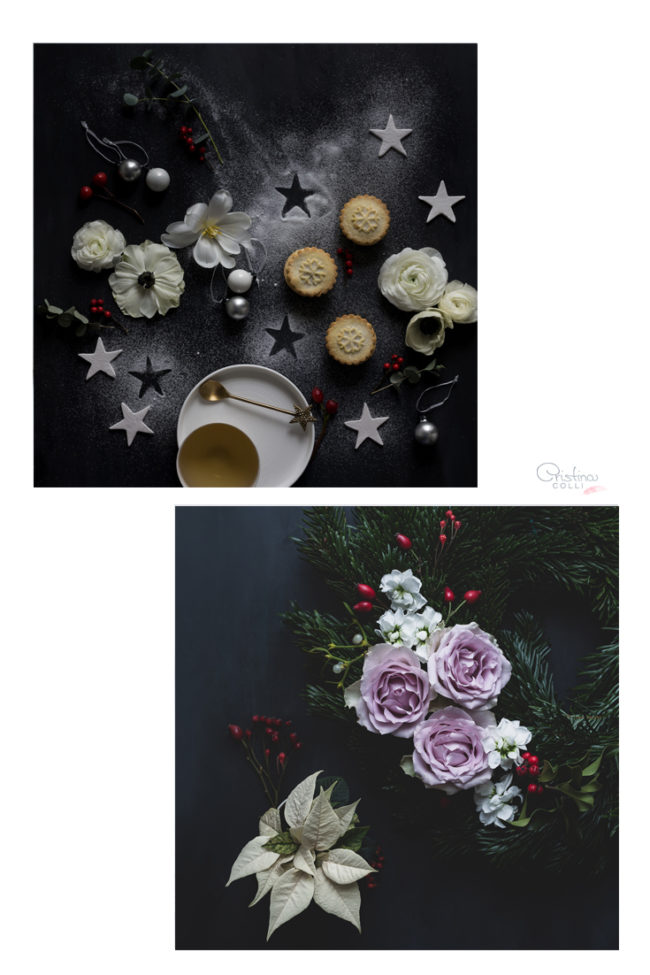 On Christmas day we take it easy, fill our bellies with way too much food, doze on the sofa, watch a film. In the late afternoon the telephone rings, bringing sad news…my mother-in-law, who's been ill for a while, just passed away.
She was a quiet, caring lady who lived a simple life in a small Tuscan village, looking after her son and daughters, a few grandchildren, and even a great-grandson. She will be missed.
Her death reminds me that life is precious and fragile…it reminds me to be grateful for my blessings, to spend time with my loved ones, and to appreciate each moment, and all the little, ordinary things that make up my day and are so easily overlooked.
And so, as I do my annual review of 2018 and make plans for 2019, I keep all this in mind, and remember to focus my time and energy on what's really important. Onwards.

–
P.S. In my monthly newsletter Creative Notes I share updates on my work, composition tips, thoughts on creativity, promo codes and special offers for my online classes, and access to my Inspiration library and more free downloads – you can subscribe here
In the Inspiration Library you'll also find my workbook/planner "Creative Intentions 2019", free for you to download, to help you review your creative journey in 2018, and set intentions for 2019. Enjoy :)