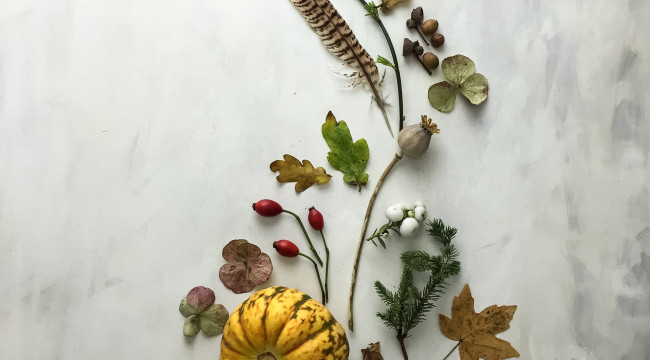 Embracing imperfection
There's so much I wanted to share with you in the past few weeks, but November just slipped through my fingers like sand, and I could not keep up with all the things I wanted to do, nor the ones that I had to do…
November is usually a quiet month for me, with less paid gigs coming through, and plenty of time to attend workshops and e-courses, make decorations, review the current year, and dream up new projects for the coming one…a month to slow down, turn inwards, and go with the flow, following my body's natural rhythm.
Only, this November has been totally different…
Extremely busy, full of work (not complaining here, actually being very grateful)… full of studying and learning, as in October I enrolled to two e-courses, thinking that I'd have plenty of free time to do the exercises and general work needed…and on top of this, I also went to Italy to visit my family – a lovely time, but emotionally intense and overall adding to the general fatigue…
In the past few weeks I've been feeling a bit frazzled, and in need of more rest than usual…rest that I know won't be coming until Christmas eve.
So… on Sunday evening I started to write down all the deadlines, business and personal ones…I started to think of all the projects that I so want to work on, but I physically do not have the time for at the moment, nor the energy…and I started to feel overwhelmed, to breathe too fast, to panic…for more than 20 years I have dealt, on and off, with extreme anxiety, and depression… I know myself, I recognise the signs that something isn't quite right very soon…and I know that the best way of dealing with anxiety, at least for me, is to slow down. To be still. To quieten my racing mind, and get back to the present moment. To let go of the need to do everything.
In the past, I used to go faster, and beat myself up for not being as efficient as others seemed to be…that didn't do me any good, obviously, so…no more fretting about being behind on blogging, no more " I should have posted about my seasonal inspiration for November much earlier, and wait, isn't it also time to post my favourite happy still…"
Instead, I'm embracing the beauty of imperfection,  dropping all those tasks that I know I won't be having time to do, and finding ways to simplify my day…hence this mishmash post :)
But enough rambling…time to focus on beauty!
These are the three flatlays  I created for the seasonal inspiration post, but didn't have time to write about: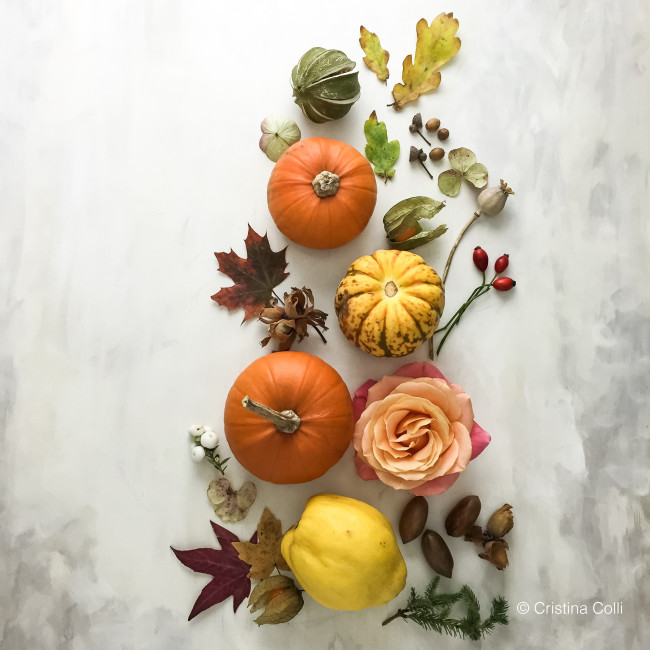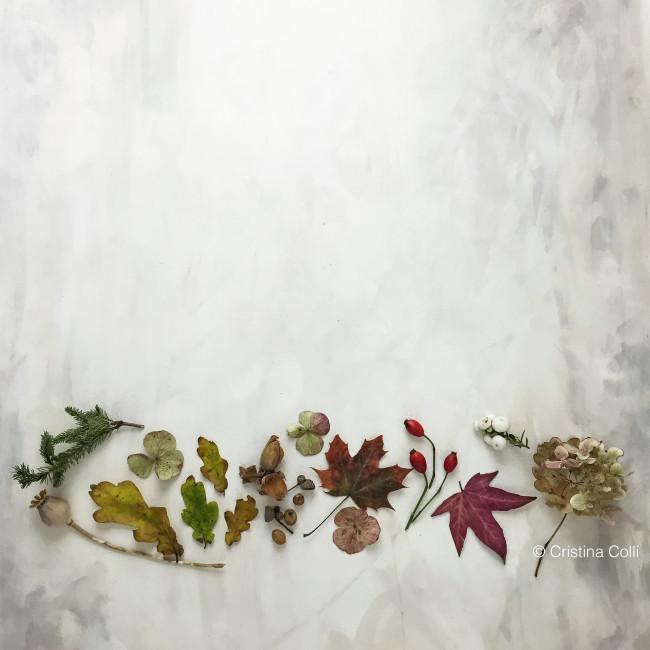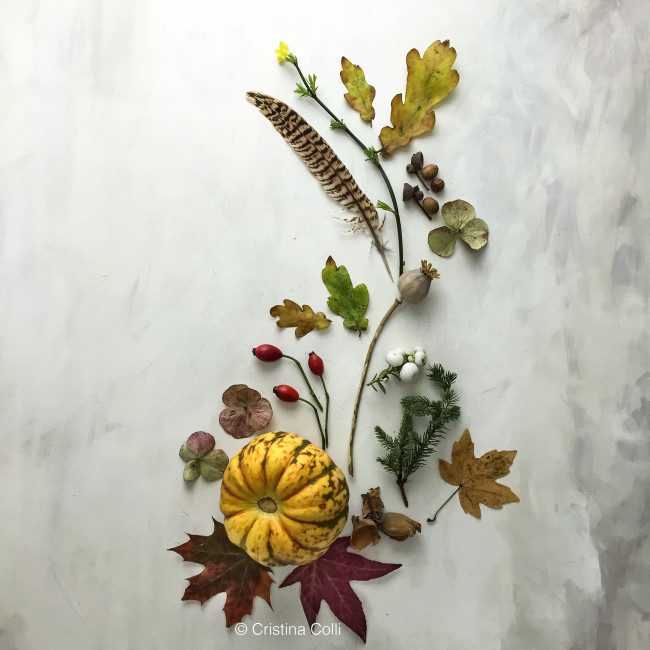 November was all about leaves, rose hips, snowberries, seed heads, faded hydrangeas, acorns, nuts, quince jam, the last surviving roses, and pumpkin galore…Autumn at its best. It was a blur, it was tiring, but it was good too.
And now, let me introduce you to my favourite happy still for the month of November: this stunning image by @mysuburbanfarm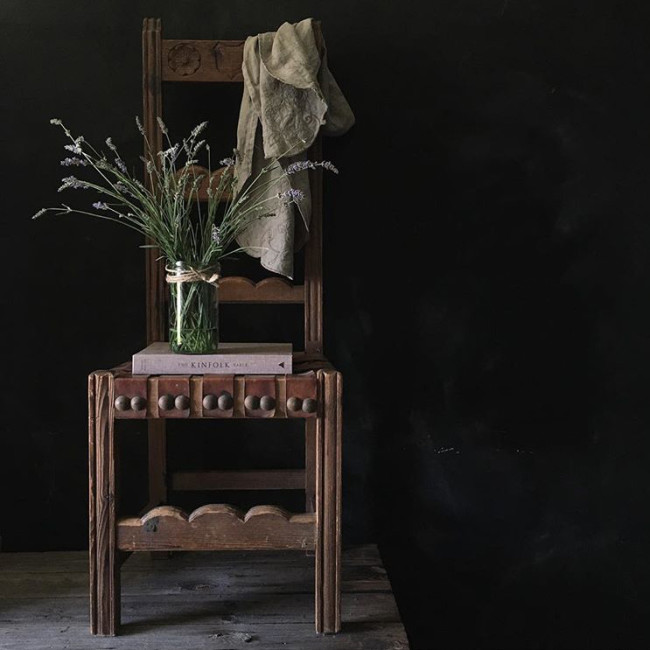 Ainslee's work is amazing and so inspiring… I love her use of light and I always look forward to her Instagram posts. Congratulations Ainslee, please get in touch so that I can send you a little something.
I also liked these images very much: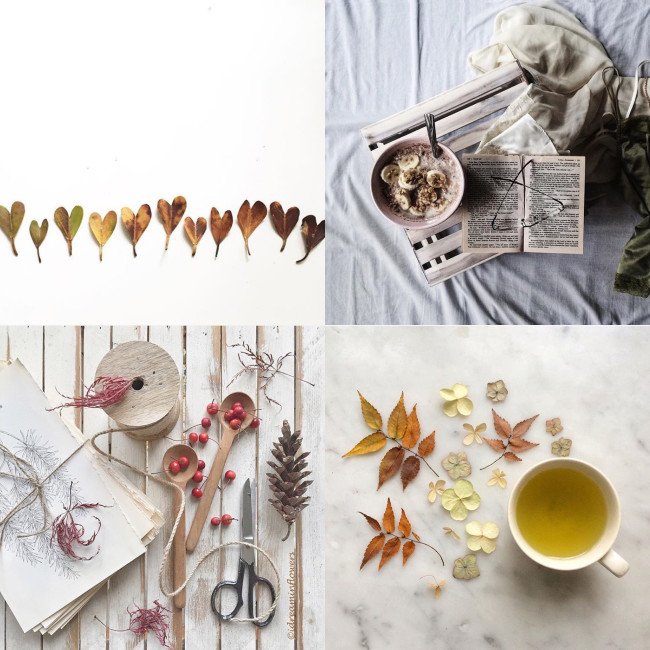 TL – @hellomissmay
TR – @sweet_novemberrr
BL – @idreaminflowers
BR – @ehpyle
They're all so beautiful, and they all make me smile…happy leaves…slow breakfast in bed (with book!)…lovely gatherings…tea, flowers, and more leaves…the best side of Autumn…
Thank you to all the lovely people who keep sharing their happy stills with the #12monthsofhappystills tag. Can you believe that it's almost been a year now? In January I will announce my favourite happy still for December. After that, you are all very welcome to keep using the hashtag, but I won't be choosing a favourite anymore…instead I'll be focusing on my other hashtag project #CCseasonal which is all about sharing seasonal still life images.
Until next time, thank you for reading this rather long post!


***
Once or, occasionally, twice a month I send out a Creative Note to my readers, with my thoughts on the creative process, inspiring links, and course news.
Signing up also gives you access to my Inspiration Library, with free resources like my ebook "The heart of Instagram: finding your peeps and building community", the creativity workbook "Creative Intentions", desktop wallpapers, and more. Interested? Sign up here
If you're on Instagram and would like to follow me there, my account is @c_colli