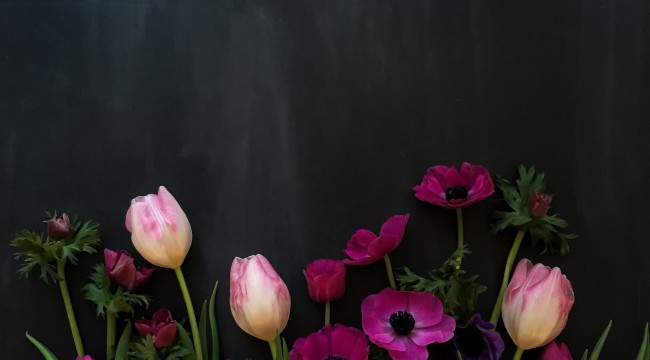 January
January was a month of stormy weather, with just a handful of crisp, frosty mornings. It's been grey, wet, windy, and unusually mild. I dislike this kind of weather, especially because it just doesn't feel like winter…but on the up side, lots of spring flowers are already available at the florist's, so I suppose that's a silver lining ;) Going through my iPhone camera roll, I realised that this month I mostly worked with tulips and anemones.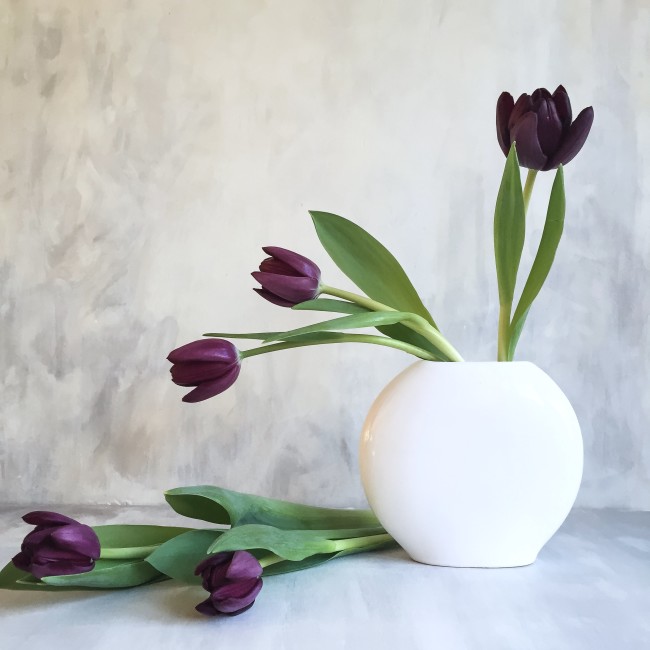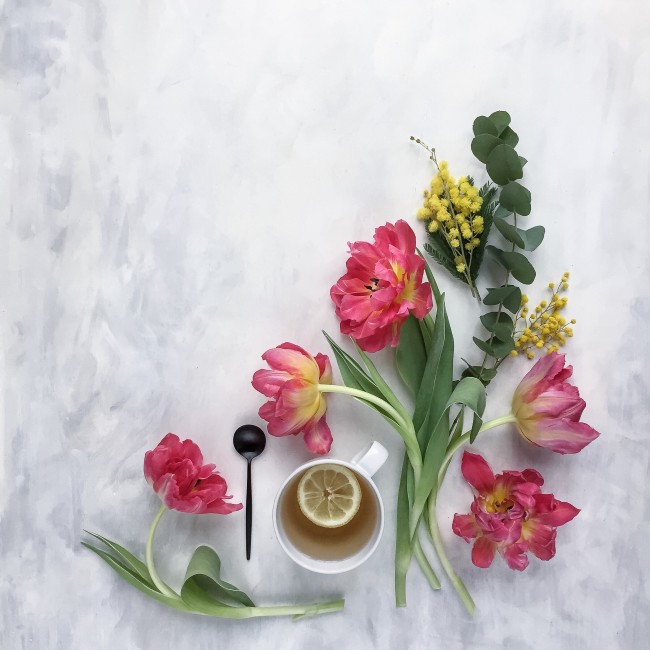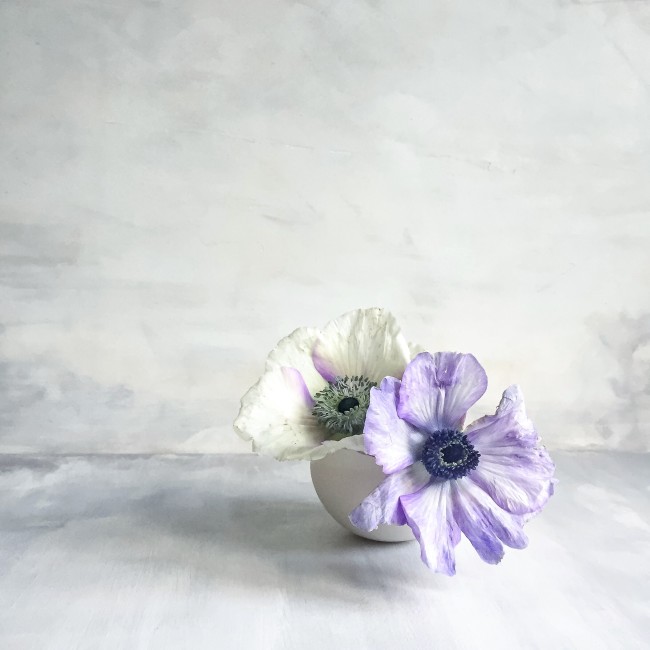 I also had fun creating some dramatic, moody images – after all, the (lack of) light was ideal for this kind of photography.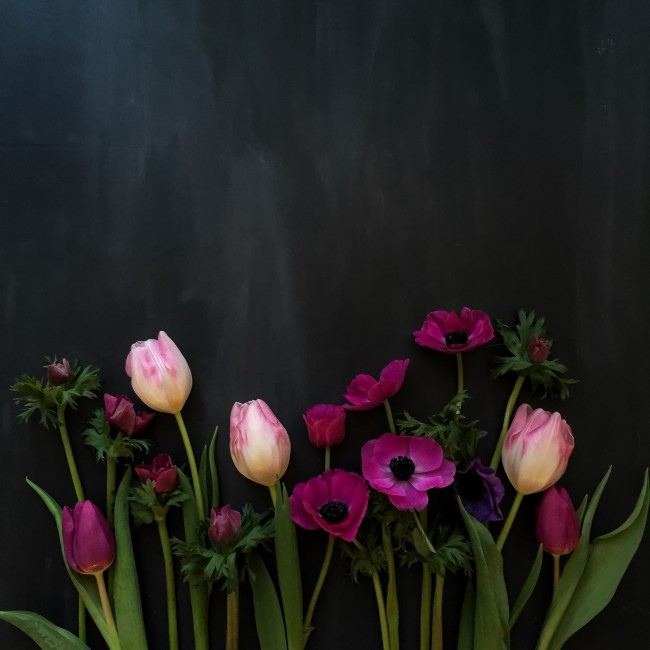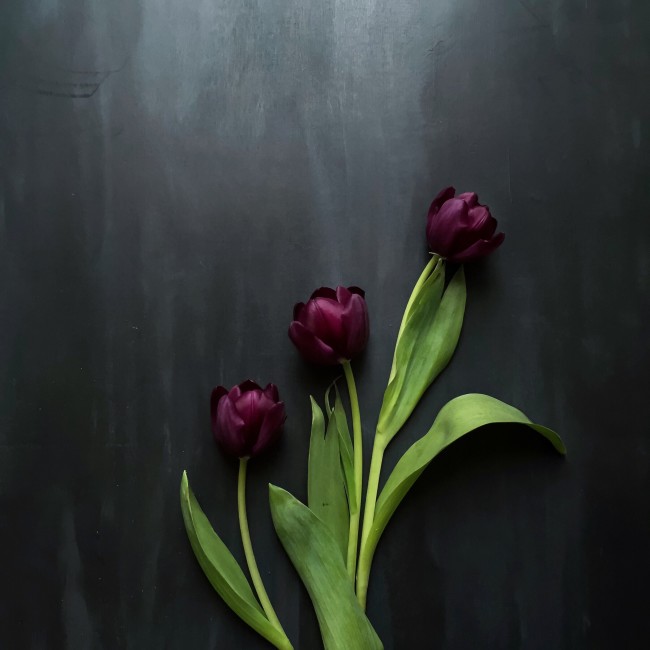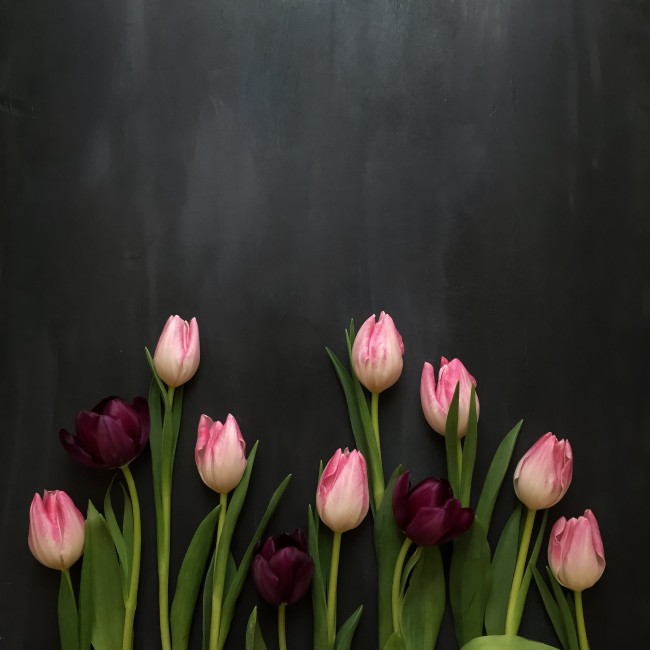 January was a month spent teaching one-to-one workshops, working on a few collaborative projects, and hatching up plans for a couple of online courses. I finally finished and launched my ebook The heart of Instagram, and also made a couple of video demos of my floral flat-lay in the making (coming soon on the blog!). I made sure to have some slow days too, just for reading, journalling, spending quality time with my husband, and generally taking it easy.
I've noticed that when I take time off to do something not work related, I actually become more productive. Walking in the woods at the weekend is my favourite way to unwind, but the weather has been so wet that the tracks of our local wood turned into a mix of huge puddles and mud. So I turned to my small garden instead, and spent some time pruning roses, potting bulbs, and tidying up the flower beds.
The seemingly "idle" hour spent in the garden turned out to be the perfect way to nourish and ground myself.
Immersing myself in these simple activities stops the whirlwind of thoughts cluttering my mind, making me anxious and scattered. After a little while, the mind slows down,  creativity flows again, ideas percolate and mature, and I feel more focused…January has thought me that pottering around in the garden is a wonderful way to reconnect with my self, and I want this pottering to become a practice for the whole year.
Now it's time to talk about the #CCseasonal Instagram hashtag project. I have decided to share four favourite images each month, both on Instagram and here on the blog. The four favourites for the month of January are all gorgeous, and they capture different moods of the month: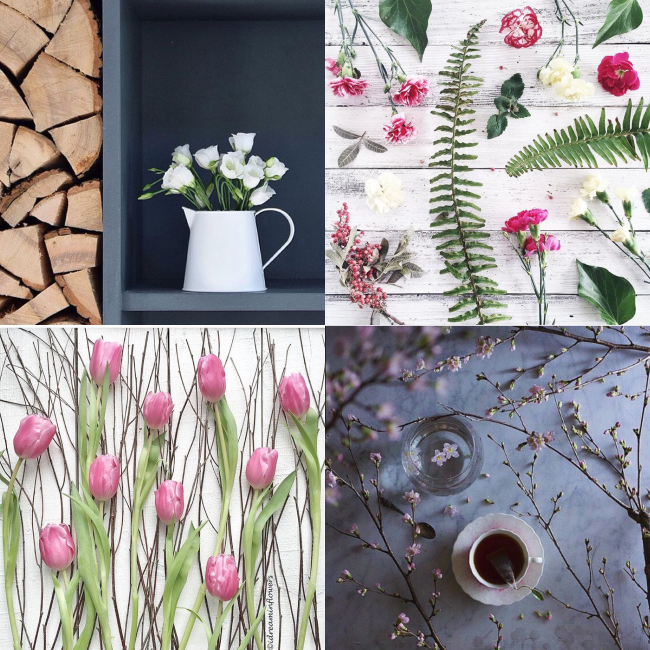 TL – @tesslovesflowers
TR – @thedizzybee
BL – @idreaminflowers
BR – @toile_blanche
Thank you to everyone who joined in! If you'd like to take part this month, simply use #CCseasonal to tag your still life images inspired by February, and I'll share four favourites on 1st March. Here's a link to all the current images in the #CCseasonal gallery, they're all so beautiful…have a lovely February,

***
Once or, occasionally, twice a month I send out a Creative Note to my readers, with my thoughts on the creative process, inspiring links, and course news.
Signing up also gives you access to my Inspiration Library, with free resources like my ebook "The heart of Instagram: finding your peeps and building community", the creativity workbook "Creative Intentions", desktop wallpapers, and more. Interested? Sign up here
If you're on Instagram and would like to follow me there, my account is @c_colli