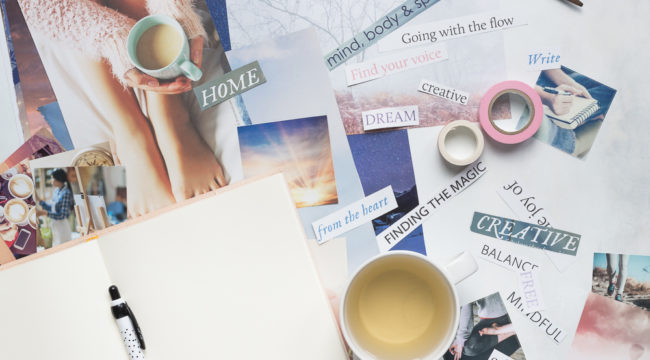 How to make inspiration boards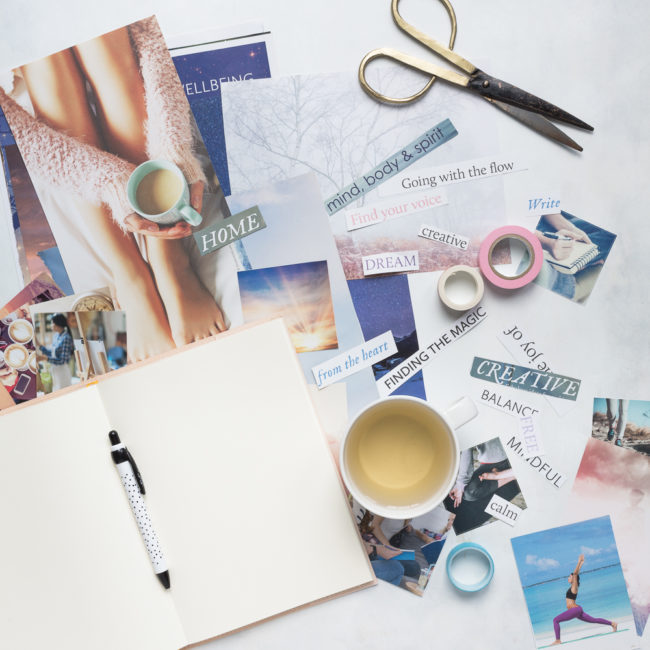 At the start of every new year I set intentions for the months ahead, and then create an inspiration board. This helps me have a clear picture of what I'd like to create in the coming year, and keeps me going when I hit a creative slump or feel overwhelmed by the tasks ahead.
Creating an inspiration board is like a ritual, feels a bit like playing with magic, and can lead to further discoveries and insights on my intentions and goals.
I light a candle and some incense, brew a cup of tea, and put on some relaxing music. I let intuition guide me, and choose images that evoke a strong emotional response.
Once the inspiration board is finished, I keep it somewhere where I can see it as often as possible – like pinned on the wall by my computer, or on the first page of the notebook where I jot down my ideas.
All inspiration boards are powerful tools. The moment you glue pictures and words onto paper, you are giving shape to your dreams.
Inspiration boards are so effective because the images trigger the emotional response necessary to feel inspired and motivated to take action – they take you closer to your vision.
Pictures bypass the mind and its negative thoughts of self doubt and fear, and bring to life the emotions behind the goals.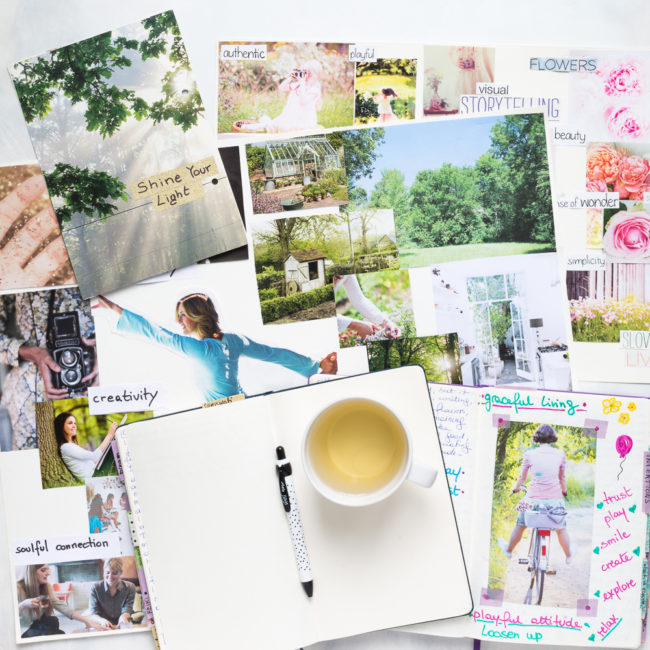 Every time you look at your board, you are basically practising a short visualisation, a mental training technique that's been effectively used for decades in sports, to improve performance.
Beside reminding you of your intentions, on a practical level inspiration boards can also help you make decisions.
Nowadays, when opportunities and requests pop into my inbox, I ask myself: is this aligned with my intentions? Will it take me closer to my goal?
When I'm not sure, a quick look at my inspiration board is usually enough to help me decide whether the project I'm asked to work on is in line with my goals or not.
This whole process of setting intentions and making inspiration boards gives me clarity and motivation, helps me avoid distractions, and makes it easier to follow my own path.
One of the first inspiration boards I made is about my core values and desires, and that's pinned to the wall by my desk. This way, every time I raise my eyes from the screen, I can see a reminder of what motivates me to create.
I set intentions and make a board each time I start a big project. For example, before I create a new e-course, I think of how I want the class to feel, what I want to share with my students, and how. The inspiration board helps me stay on track, and gives me the push to overcome challenges and doubts.
I also set intentions and make a simple collage every time I start a new journal, on its first page.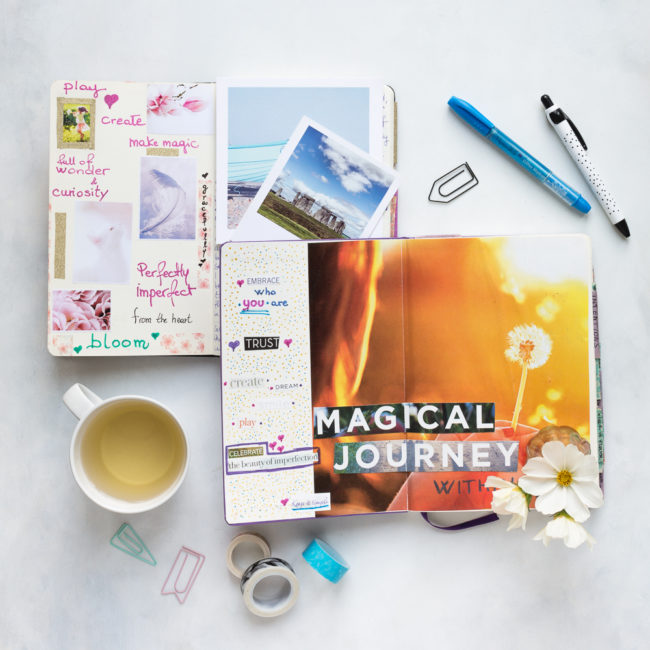 I do this for two reasons: to have a reminder to keep discovering more about myself, and to overcome the fear of the blank page.
For years I was afraid of spoiling a brand new journal, and often put off writing in it – silly I know, but that's how I felt. Having a collage on the first page is a way of leaving perfectionism behind and to just focus on the process, on writing and exploring, rather than on unnecessary expectations: journalling is not about writing a masterpiece, so there's no need to feel precious about it.
Tips for making an inspiration board
You can set intentions and make inspiration boards for all areas of your life: work, relationships, personal growth, home, and so on.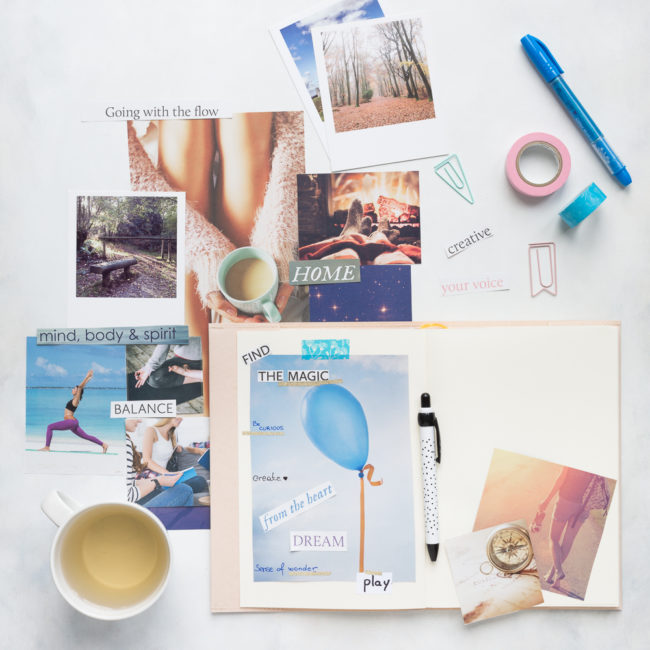 ‣ Start with finding clarity on your goals, and explore the reasons behind them in your journal, to get to the core of your desires (see some tips here).
‣ Choose a few keywords that sum up your intentions – they can be words like balance, abundance, healing, or combinations like "healthy mind & body", "be present", "mindful eating", "connect from the heart", and so on.
‣ Inspiration boards are all unique. There are no rules, no set layouts or design guidelines. What's important is to choose images that, in your heart, bring your vision to life.
‣ Set aside a couple of hours of uninterrupted time just for yourself, perhaps at the weekend, or in the evening or early morning. Create your own ritual, perhaps with candles, a favourite drink, some music, to make the whole process even more special and magical.
‣ Gather some magazines, scissors to cut your images, glue or double sided tape, and some card to use as a base. Choose magazines with articles that resonate on what your topics are. I like to use Breathe, Psychologies, The Simple Things, Womankind, and magazines about yoga and natural health. You can also use washi tape and coloured felt tip pens to embellish your board, if you like.
‣ Tear out pictures and cut out words from the magazines, and put them aside in a pile. Choose all those images that evoke the emotional response attached to your intentions, those images that make you "feel" your goal and vision. If you cannot find a word to cut out, just write it on a piece of washi tape or on a paper label.
‣ When you think you've gathered enough material, start making your board. Move pictures and cut-out words around, until they feel right, and then glue them, or tape them, onto the board. You can slightly overlap some of the images, place one in the middle and arrange the others around, or even create a simple grid.
‣ Remember to enjoy the process and keep the whole experience playful: you're not making a business presentation ;) The inspiration board is just for you, so don't worry about doing it wrong – just follow your intuition, and make sure that you find the board inspiring.
‣ Once your board is done, keep it somewhere where you can see it often, as a visual reminder of your goals and intentions.
Enjoy!
Parts of this text originally appeared on Breathe magazine, issue 8
–
SaveSave
SaveSave
SaveSave
Tags:
inspiration board
,
tips