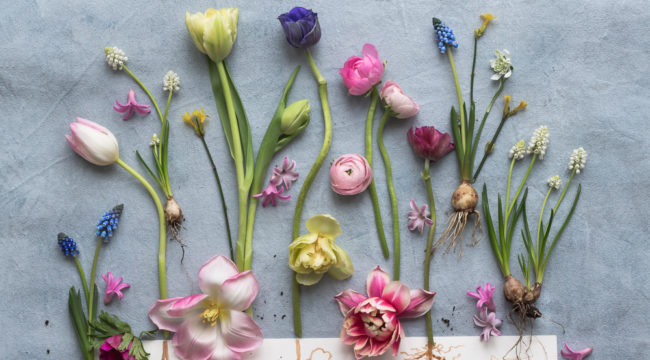 The spring issue of Blossomzine is just out, and I'm thrilled to see my image on the cover!  I enjoyed creating the cover image very much, and I'd like to share a little behind the scenes of the whole process.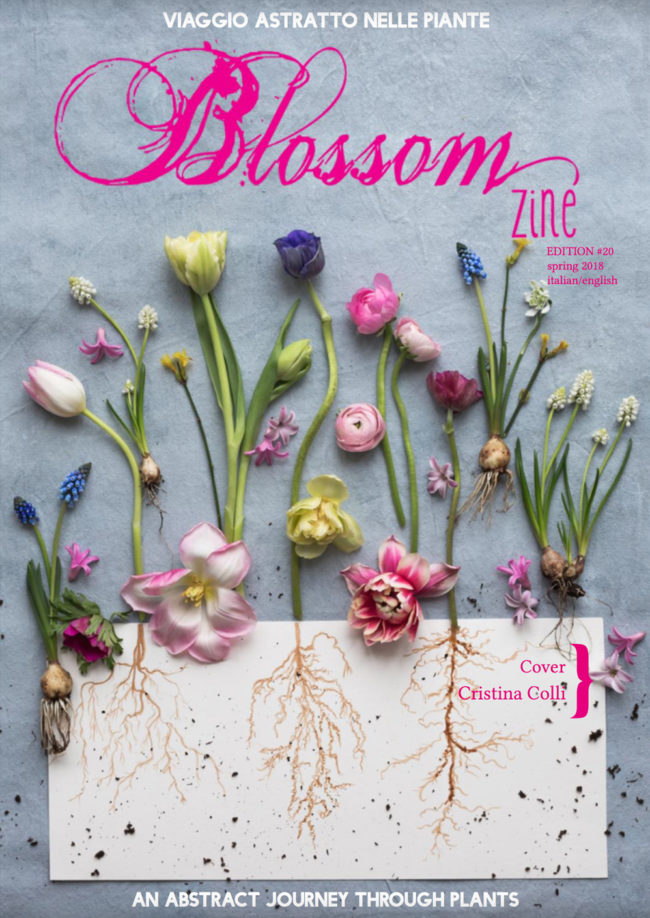 The brief
When SBM Life Science commissioned the spring issue cover of Blossomzine, director Dana Frigerio contacted me to create and photograph the image. I've been a regular contributor of Blossomzine since November 2015, and met Dana a couple of years ago. We regularly Skype to brainstorm ideas and chat about all things creative, so I jumped at the opportunity to collaborate with her.
The challenge
The company asked Dana to feature their NutriOne fertiliser in the cover image in a subtle, creative way.
The brainstorming
We had a long brainstorming session on Skype. We discussed the concept for the cover, Spring, and the way it symbolises rebirth and growth. We talked about plants, and how they need water, nutrients, and good soil to develop strong roots and grow.
After looking at many images of spring flowers, roots, seeds, and bulbs, we decided that Dana would paint an illustration of roots using NutriOne fertiliser as ink, and that we would use spring flowers and bulbs. Some of the bulbs would be whole plants, complete with roots and possibly soil.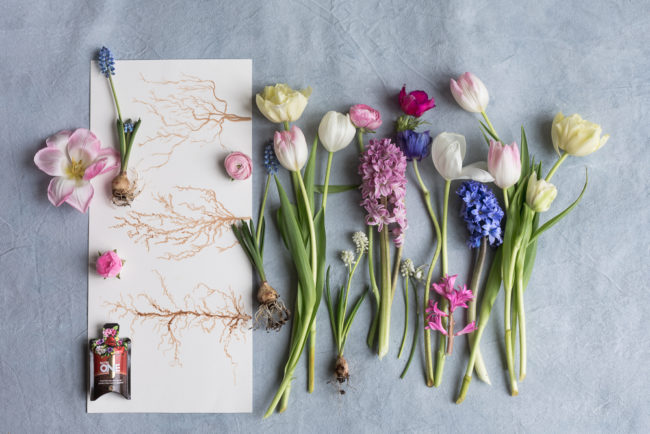 The collaboration
Dana painted the illustration of roots, to fulfil the brief, while I chose the flowers, and created and photographed the composition.
She flew over here with her precious illustrations, and her trip was an adventure! Storm Emma got in her way, and after one cancelled flight and a delayed one she finally arrived at my place at 3.30am, chilled to bone and exhausted.
I had placed an order with my florists days in advance, but after reading the weather forecast I started to fear that I couldn't get my delivery. I scoured every possible place in town, and even asked my husband to visit a florist and supermarket close to his office, to get as many flowers as possible. Thank goodness for this, because the delivery guy couldn't reach my florist, so I had to make do with the bits and pieces I'd managed to buy the previous days, and a single snowdrop that I managed to salvage from the garden.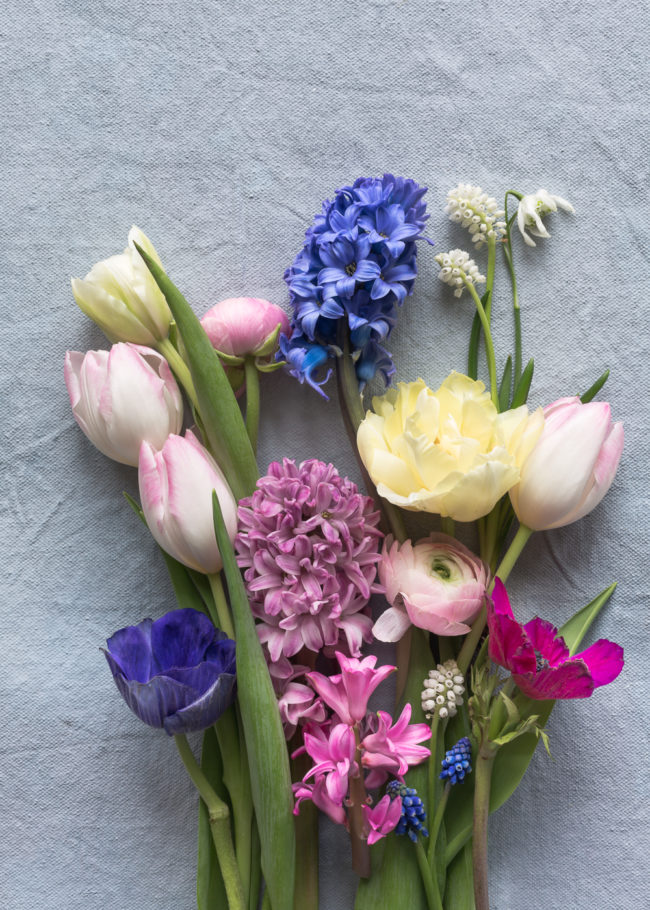 We chose the grey backdrop together, from a selection that I had just painted. The storm had a silver lining though: I take photos in natural light, by a large glass door, and the snow covered ground acted as a giant reflector – the light was beautiful!
The styling tips
I paired flowers in odd numbers – like five yellow flowers, three blue grape hyacinths, and so on.
I always work in odd numbers – this is called the rule of odds, and even though I don't like rules I always follow this one.
Using an odd number of subjects makes the image visually interesting. We naturally try to pair items, and when we cannot find the pair we keep looking, staying engaged with the composition.
The only exception to the rule is the couple, as two subjects work well together too.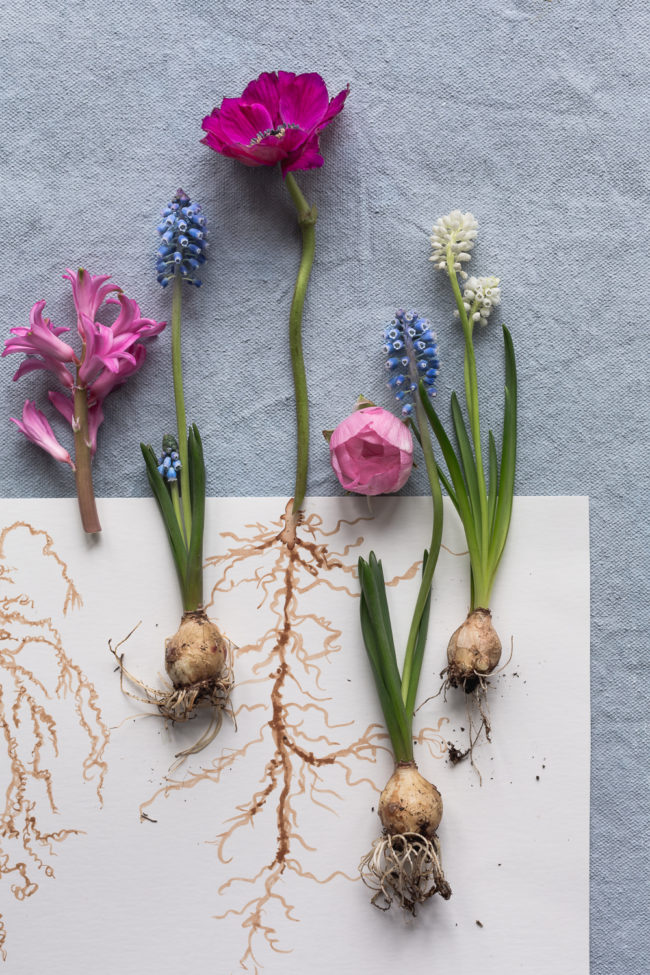 I added some soil to the image as texture, to soften the edges of the illustration and tie all the elements of the composition together.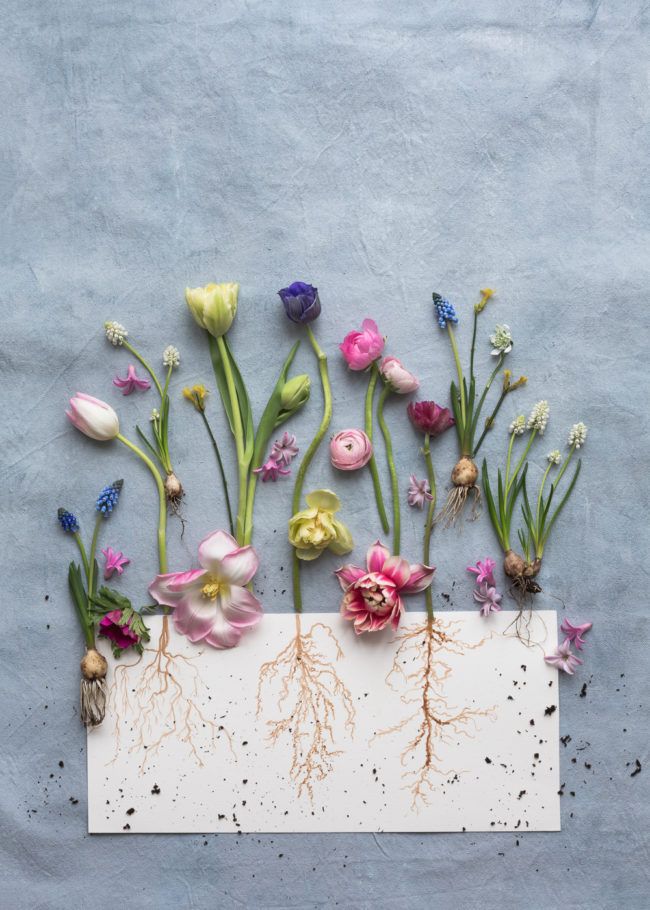 Reflections
Having too many directives often stifles creativity. The best scenario, in my opinion, is when you have creative freedom with one single challenge. This is a good starting point, as it prevents the "fear of the blank canvas" and leaves plenty of room for individual creativity – do you agree?
Dana and I only had one requirement each: she had to include the fertiliser in the cover, and I had to use her illustration in the image. SBM Life Science gave us creative freedom, and that let our creativity shine – a perfect job!
Blossomzine is a bi-lingual e-magazine about flowers and plants. The articles are both in Italian and in English, so head over there to feast your eyes with beautiful photographs and read interesting articles.
Please feel free to let me know your thoughts about your idea of a perfect job in the comments below :)