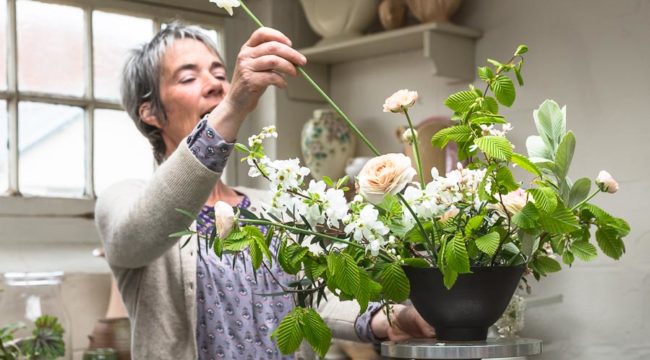 Green & Gorgeous workshop
A couple of weeks ago I attended the It's all in the vase workshop at Green & Gorgeous flower farm. Rachel and Ashley grow a fantastic range of flowers in their farm, and sell to the public on Saturdays from April to October.
I love working with seasonal flowers, so even though Green & Gorgeous is about an hour drive from where I live, I try to shop there as often as I can.
I've never had any training in floristry, so when I saw the workshop I jumped at the opportunity to learn a new skill, especially because I love Rachel's style.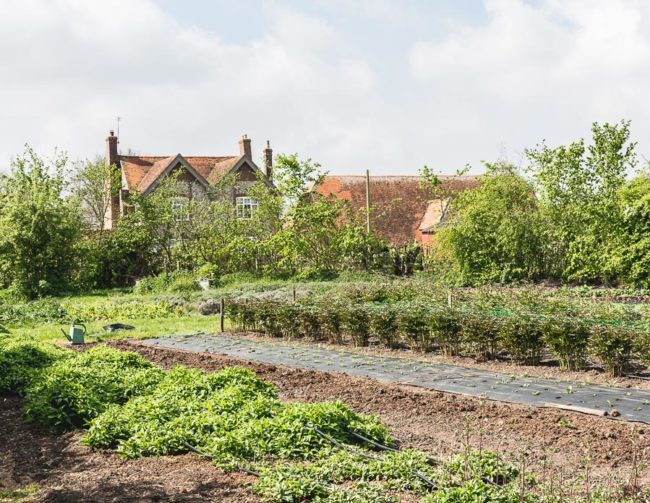 On the day of the workshop it was sunny and warm, which was great for us but not ideal for harvesting our flowers, as they're best cut early in the morning when their stems are filled with water. The flowers I cut lasted for about 10 days though, so the sun wasn't too much of a problem after all.
At the workshop there were ten of us, and when we arrived we were treated to tea and cake. Afterwards, Rachel walked us around the farm and showed us all the seasonal flowers and foliage that we could use for our arrangements.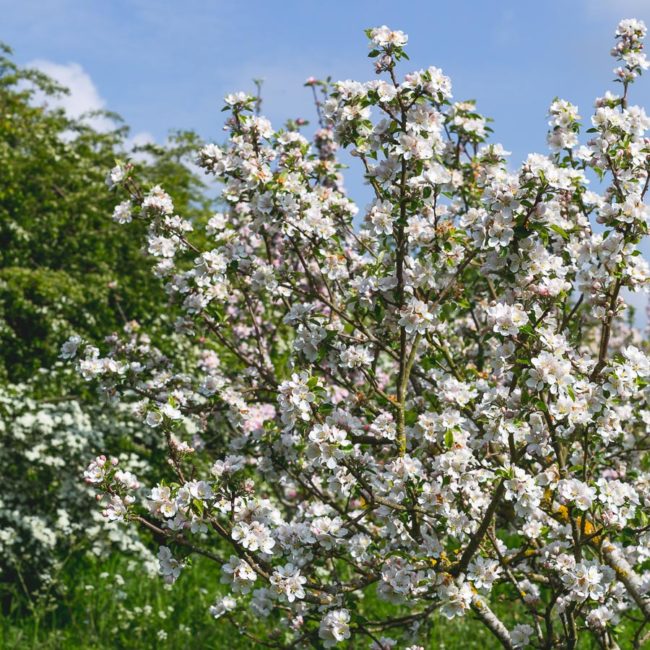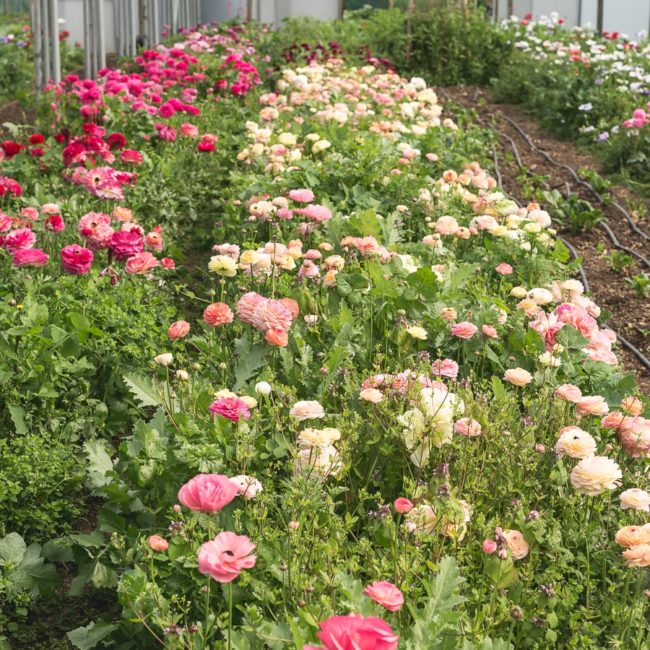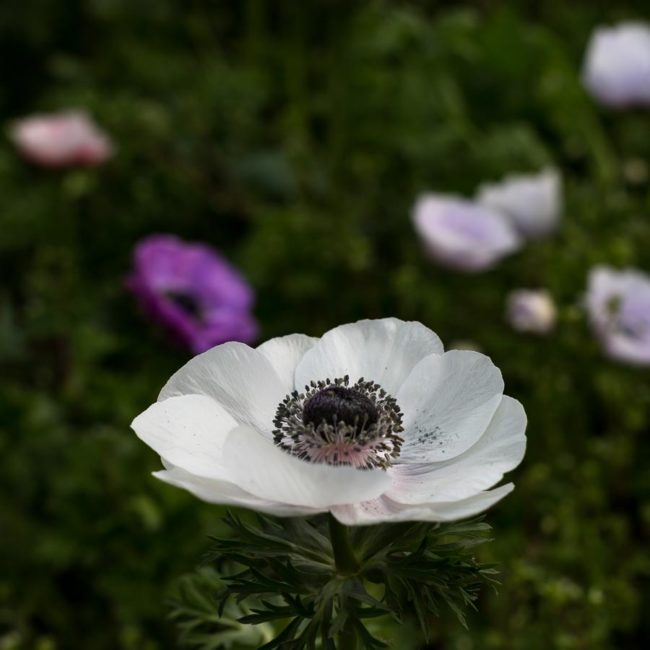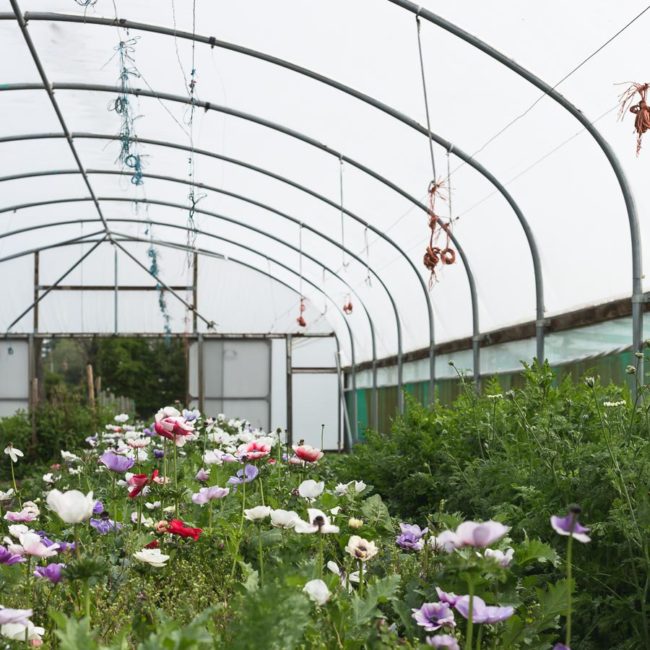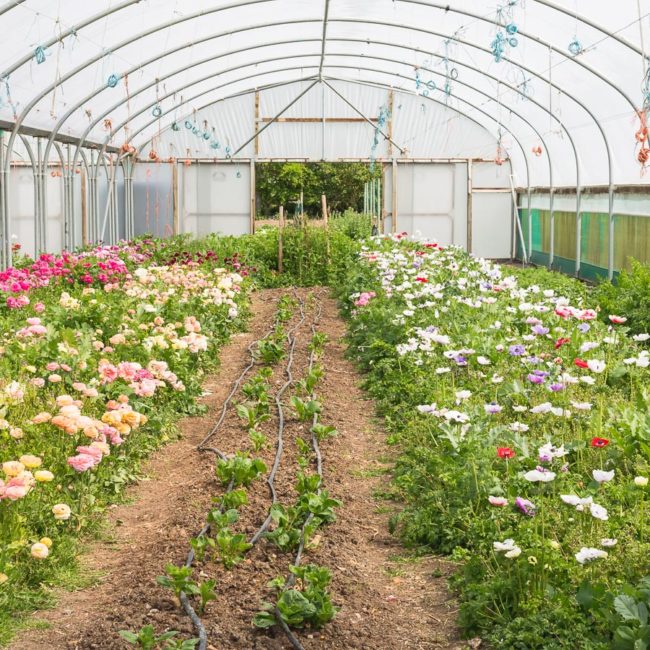 Rachel creates gorgeous flower arrangements for weddings and other events. Her airy, elegant style allows the beauty of each flower to shine through, and her compositions almost seem to grow from the vase.
She had chosen three different vessels for our workshop, to show us how their shape and size dictate the look and feel of the composition.
We started with a beautiful ceramic bowl, custom made by Joanna Oliver Ceramics just for us. Rachel did a demonstration, explaining how to arrange foliage, focal flowers, and filler flowers.
She works in an intuitive way, arranging each flower and branch according to the way they grow. I always love watching other creatives work, and it was a real pleasure to see Rachel create her graceful arrangement.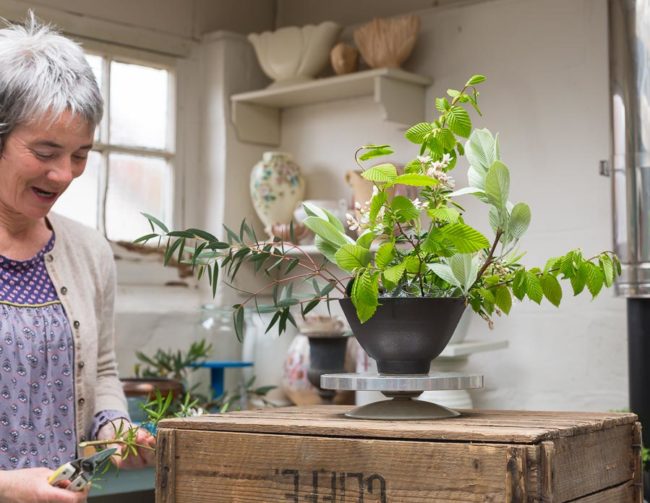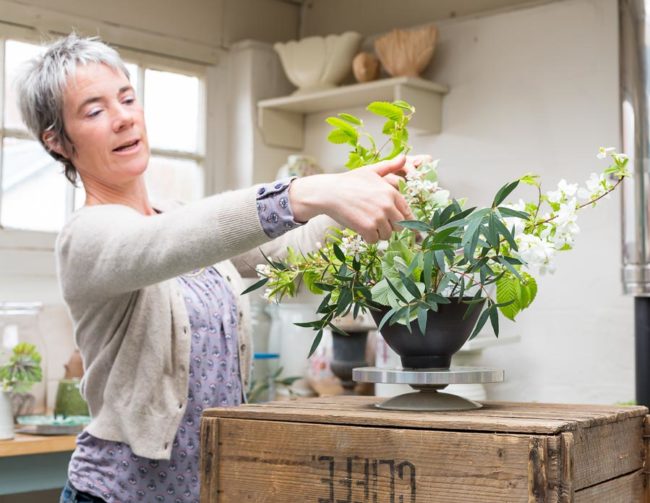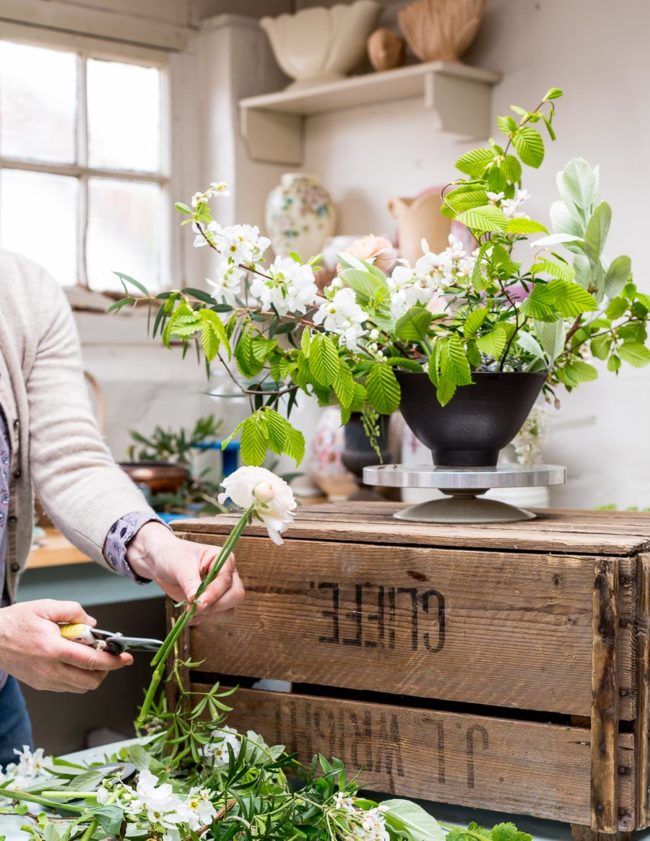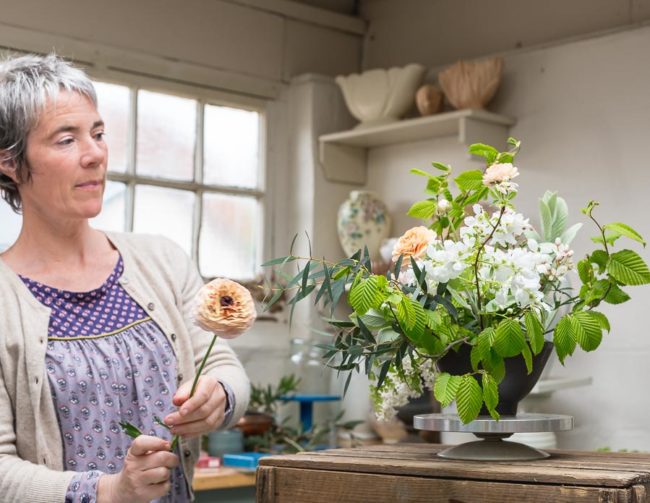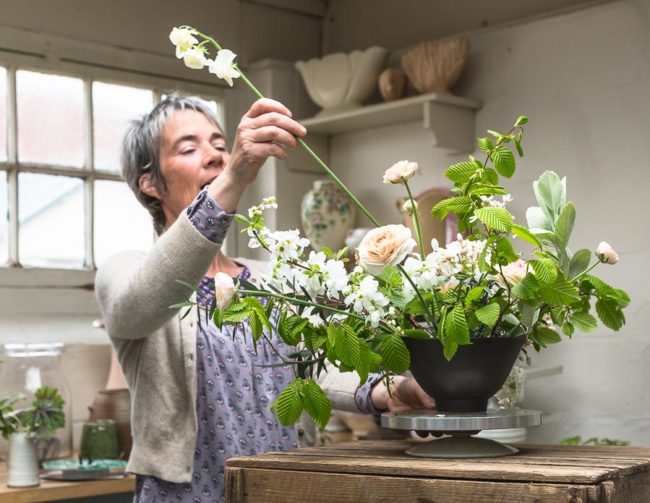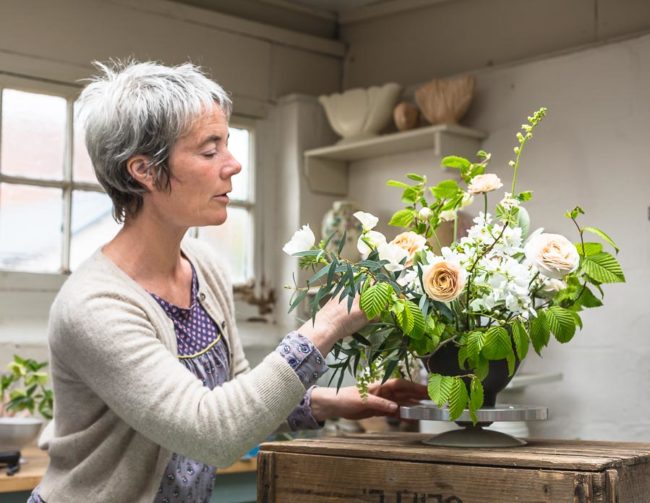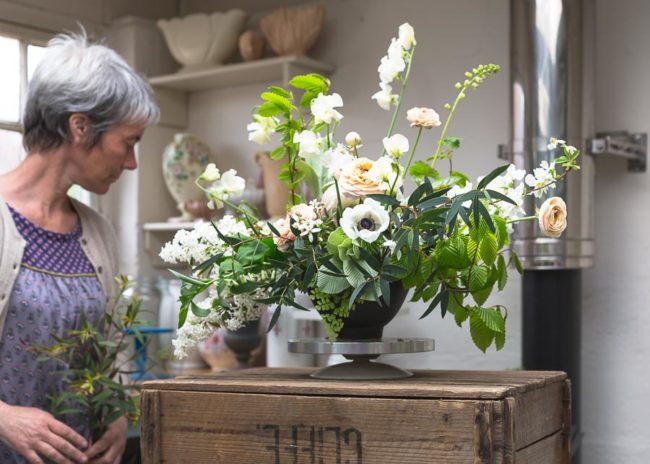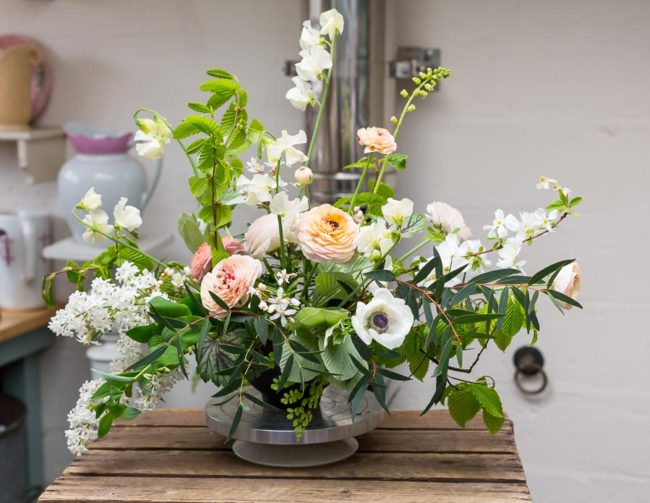 After the demonstration we all went harvesting for flowers for our own composition, and that was a pleasure in itself.
We then brought our buckets of flowers to our tables, and as soon as we started arranging them we stopped chatting, and became totally engrossed with the task – as it so often happens with the creative process.
I mostly make flat lays, and when I create my floral compositions I can quickly spot when something is not quite right. This time, though, I was working in 3D rather than 2D, so spotting mistakes was more of a challenge.
I had to rearrange a few branches and flowers, and cut some more foliage because I hadn't gathered enough of it. Rachel was on hand to answer questions and give advice, and I took full advantage of her experience.
Soon it was time for lunch – savoury tarts, a selection of salads, and a lovely rhubarb cake, all prepared by Ashley. I forgot to take photos, but I can assure you that the food was delicious!
After lunch we gave the finishing touches to our first arrangement, and then made two more – one for a tall vase, and one for a small vase whose shape reminded of a Japanese teacup.
When we finished, I went around to look at all the other arrangements made during the workshop. We all had the same vessels, and the same range of flowers and foliage to choose from, but every composition was different and reflected individual tastes and creativity – one of the things I love about workshops!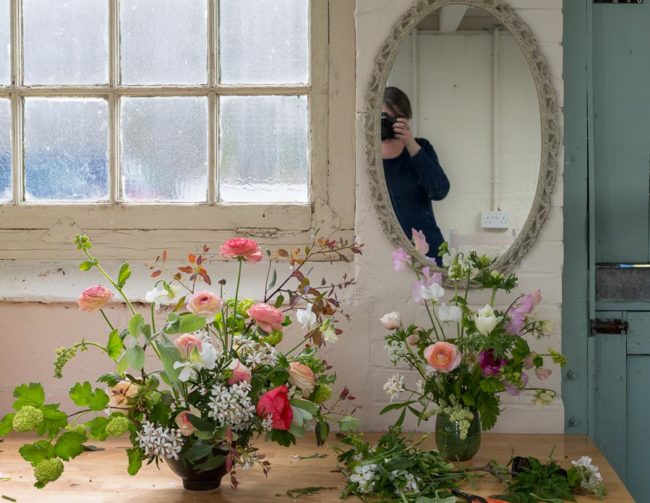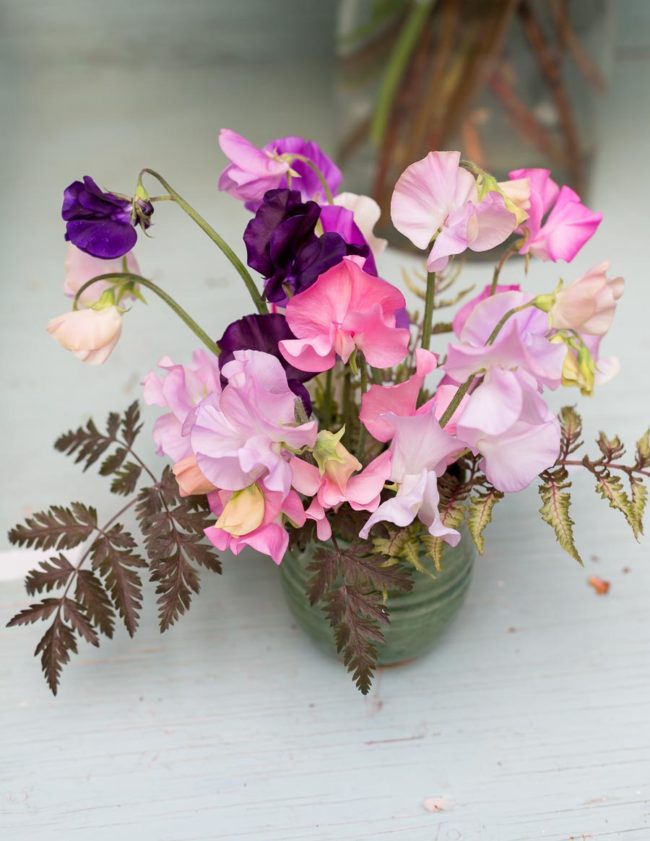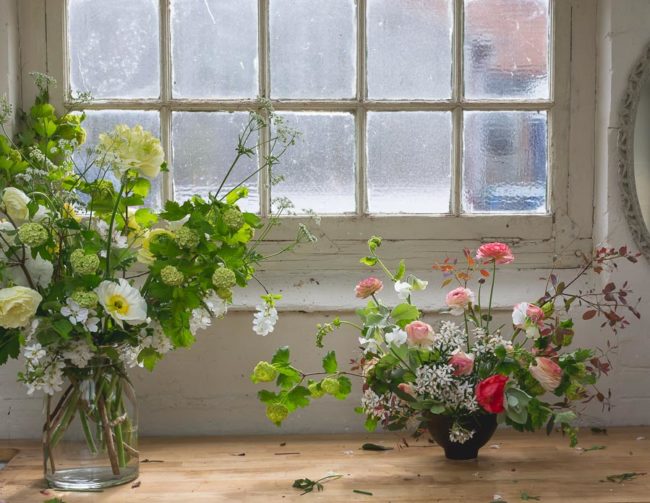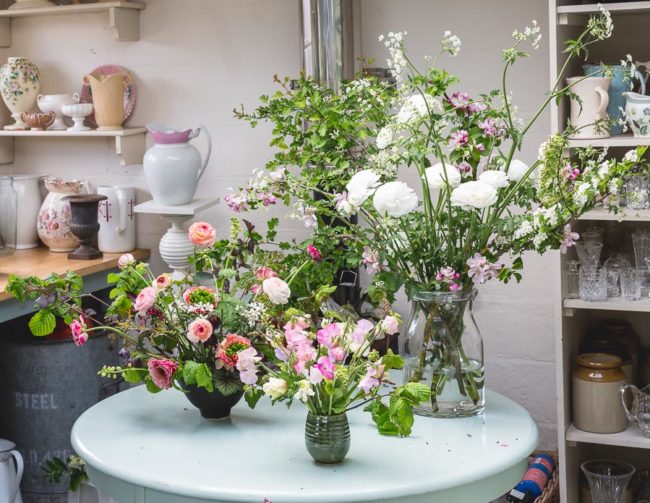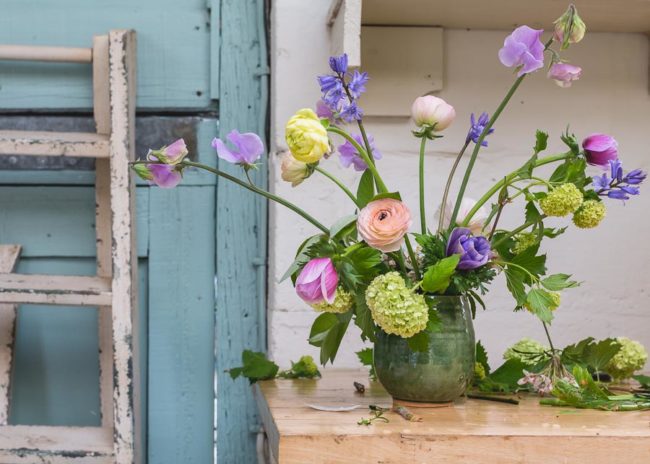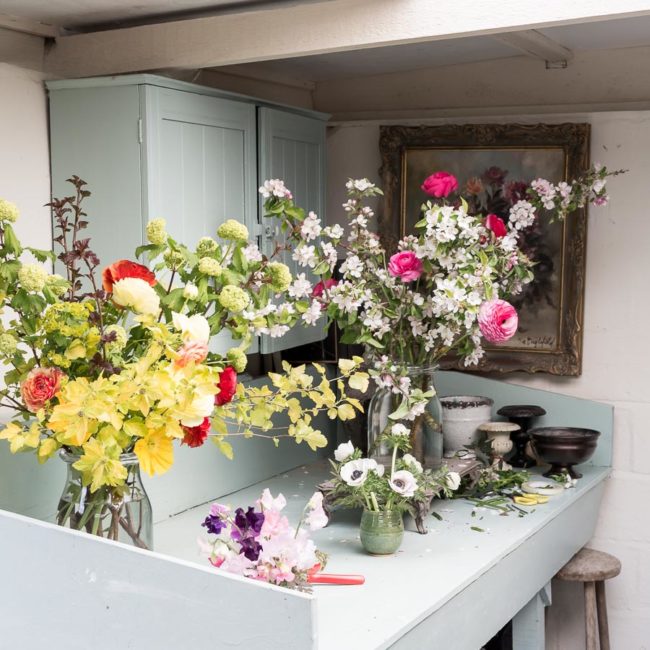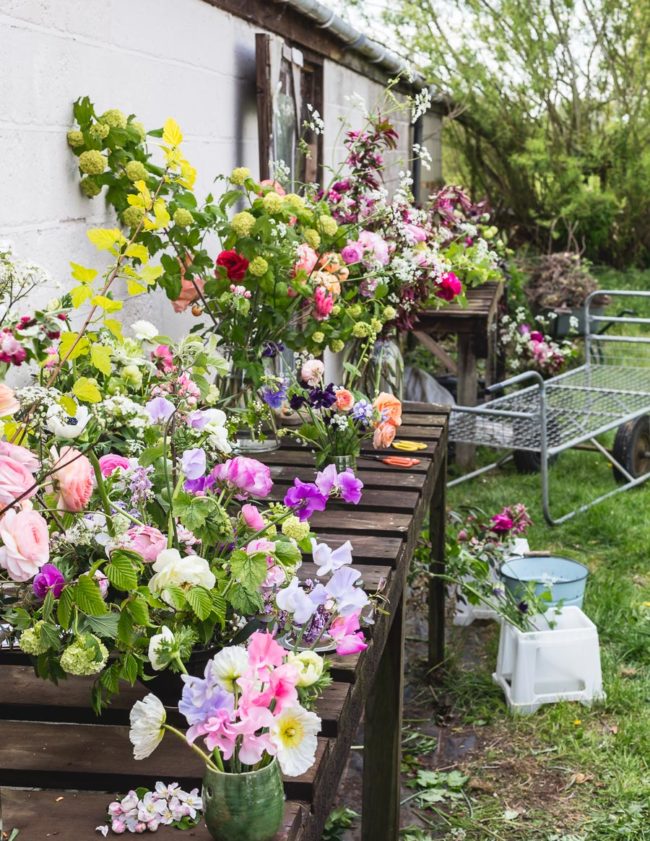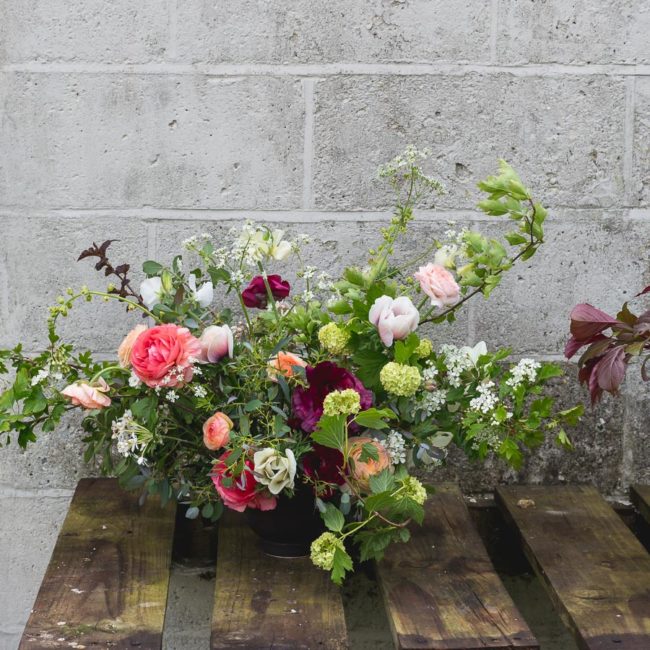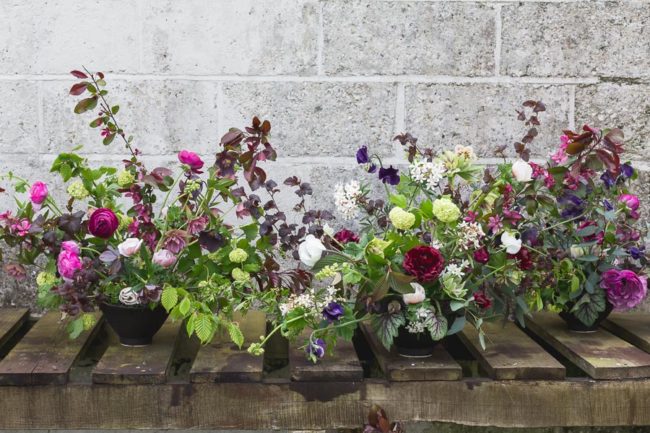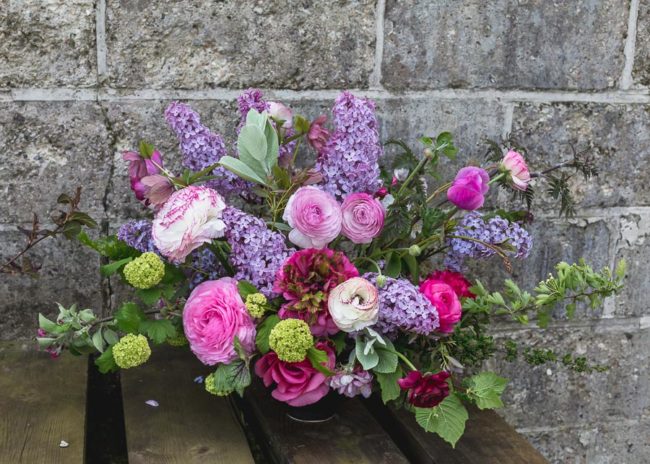 In all the excitement I forgot to take photos of my own creations…oops! They got a bit battered during the drive back home, but the following day I spruced them up and here they are.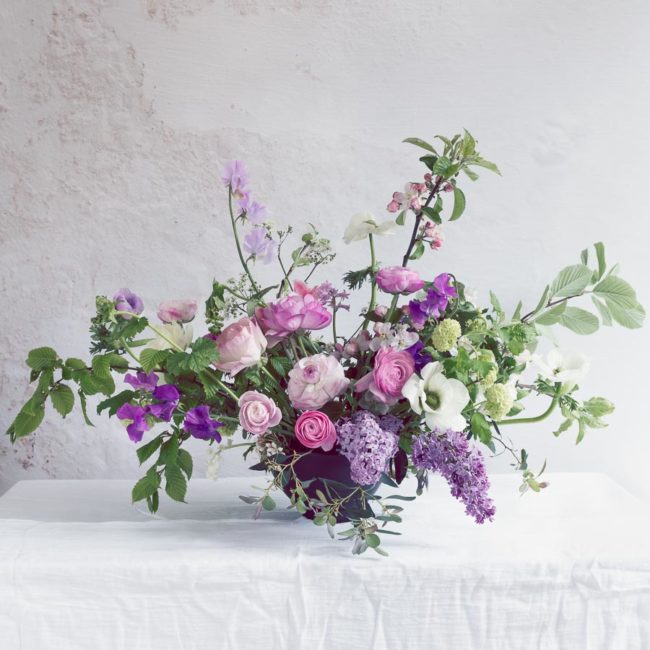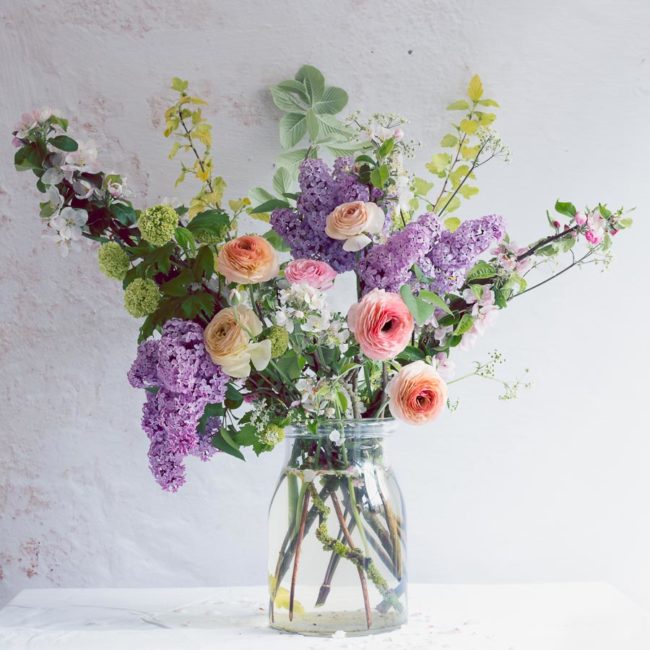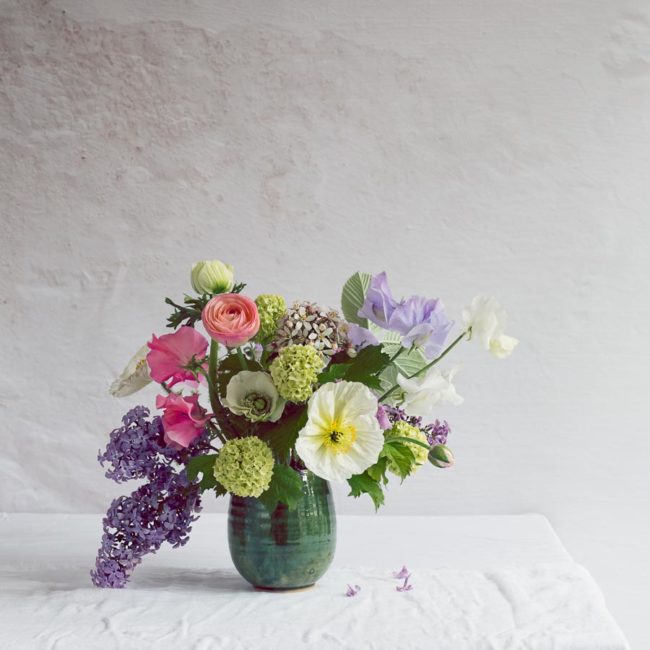 Considering this was my first time, I'm quite pleased with the result. I know that I have loads to learn, but we all have to start somewhere right?
My favourite vessel was the bowl, and I enjoyed working with the small vase too. The tall vase was my least favourite, probably because I'm used to working on a small scale and I found it a bit of a challenge to work with long stems and branches…but it's all good practice, and I'm all for experimenting and trying new ways of creating.
I'm so grateful that I could attend this workshop and got to spend a day playing with flowers and practicing new skills. Learning is good for the soul, and every time I learn something new I get an injection of enthusiasm and creativity that affects all areas of my work, and my life too. Thank you Rachel for the wonderful workshop, I only wish I could do this every week :)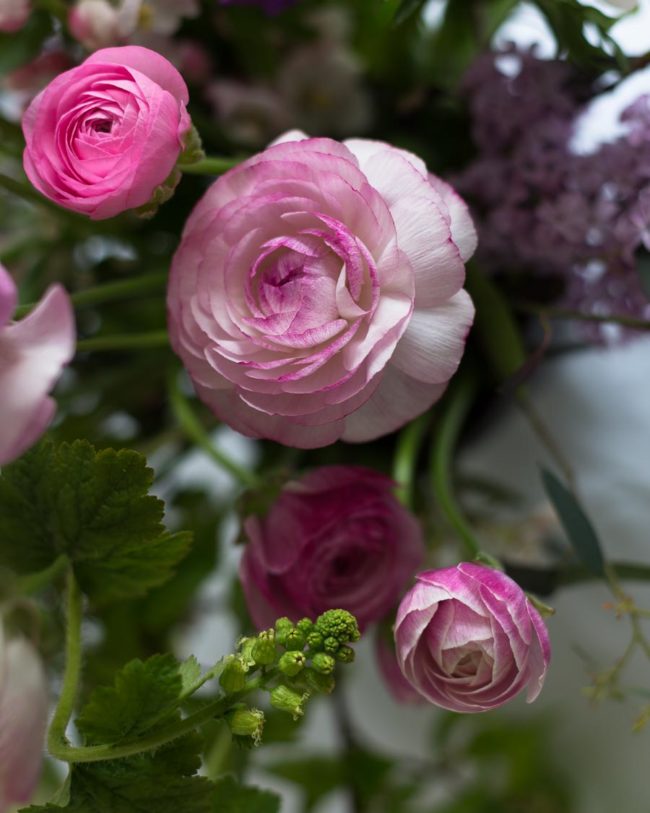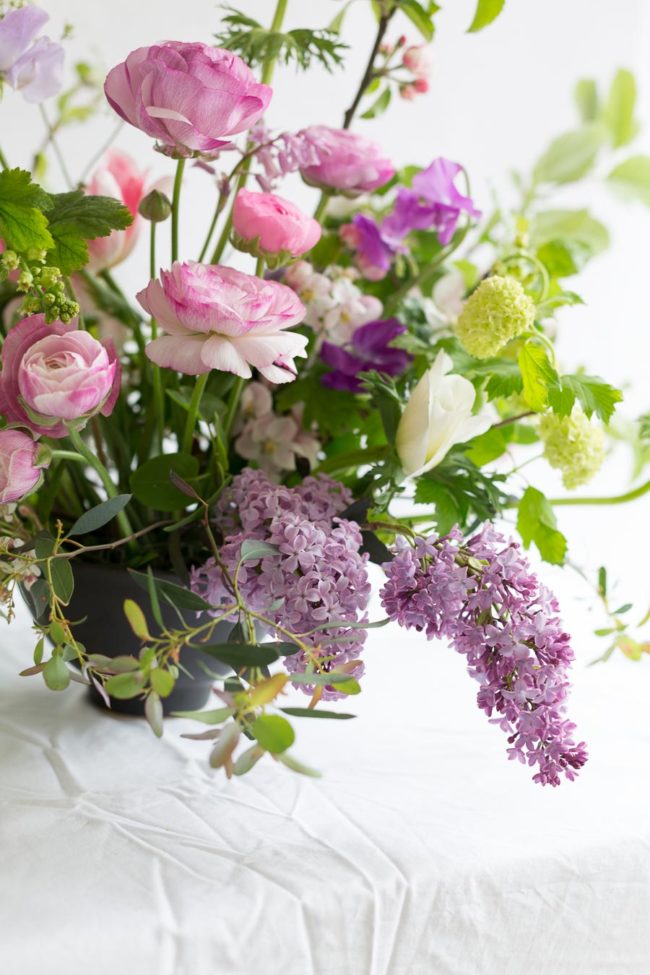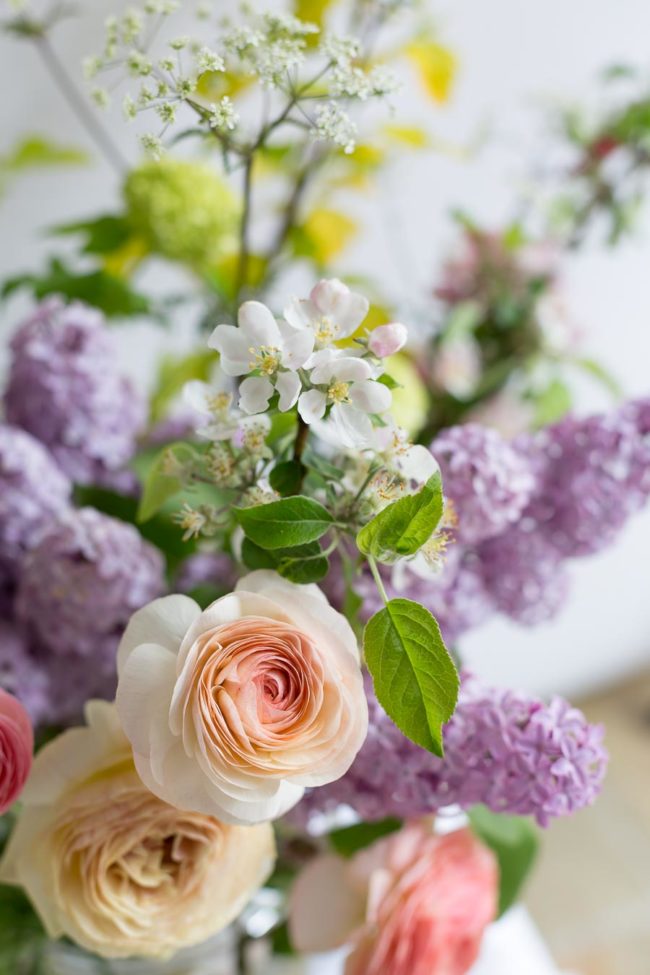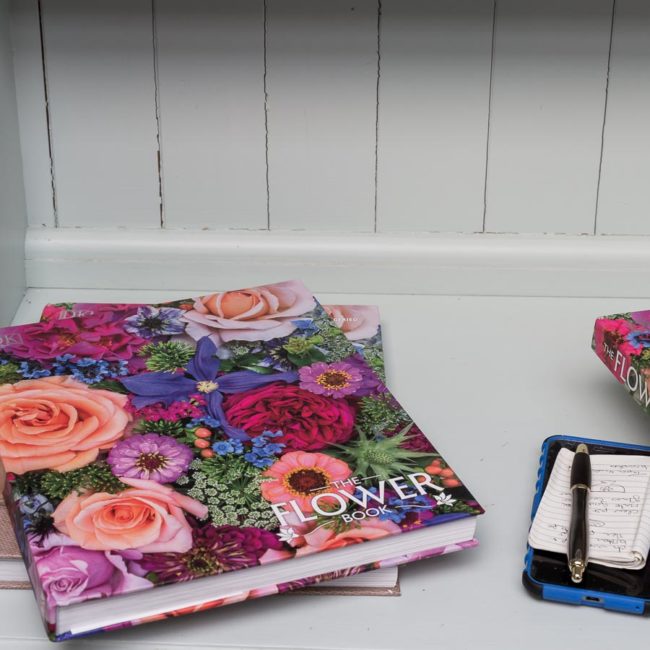 A few days ago I also bought Rachel's book "The Flower Book", which is all about natural-style floristry and has lots of tips for conditioning flowers and arranging them in different vases.
All the compositions are very inspiring, and I'm looking forward to making more floral arrangements, especially now that we're heading into the summer months, and floral abundance at last…and of course I'll make sure to photograph and share my creations here :)

P.S. My online course Visual Storytelling 1: create your story, find your voice is currently open for registration. Class starts on Monday 22nd May and runs for 3 weeks (14 lessons). Learn more here.
***
Sign up to get my monthly Creative Notes here and receive access to my Inspiration Library, which includes my creativity workbook "Creative Intentions 2017", my ebook "The heart of Instagram – finding your peeps & building community", desktop wallpapers, and more.
If you'd like to follow me on Instagram, my account is @c_colli